PSU Bike Hub Goes Electric, With Support From Portland General Electric
Posted on February 3, 2021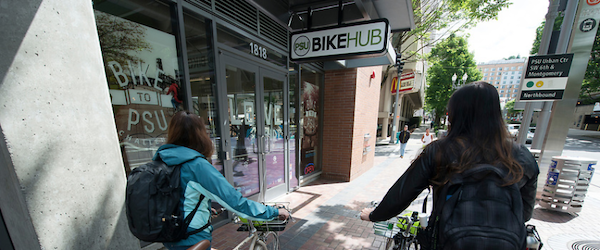 The Portland State University Bike Hub has received funding to purchase 25 electric bikes via a new grant from Portland General Electric.
The Bike Hub is a full-service retail bike shop on campus, opened in 2010. The shop offers long-term bike rental through its VikeBike program, a fleet of over 140 bikes offered at low cost (or no cost, based on need). The program's existing fleet was assembled by collecting and refurbishing abandoned bikes on campus and made available to students for long-term rentals.
PSU will use this funding to purchase 25 Batch Bicycles e-bikes, to supplement the rental fleet and provide greater access to those living further from campus or those with physical barriers to cycling, and serve as a pilot program toward the eventual full replacement of the rental fleet with e-bikes.
Read more about the PGE program on BikePortland, or read about TREC research focusing on e-bikes.
Photo by Edis Jurcys
The Transportation Research and Education Center (TREC) at Portland State University is home to the National Institute for Transportation and Communities (NITC), the Initiative for Bicycle and Pedestrian Innovation (IBPI), and other transportation programs. TREC produces research and tools for transportation decision makers, develops K-12 curriculum to expand the diversity and capacity of the workforce, and engages students and professionals through education.
Share this: