PSU Graduating Planning Students Work To Improve Transportation Safety and Environmental Justice
Posted on June 22, 2023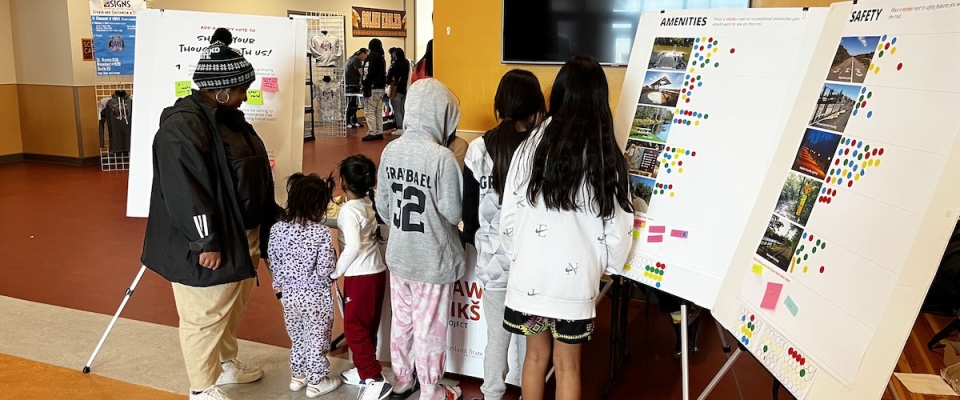 As the 2023 Spring term wraps up at Portland State University (PSU), we're taking a moment to appreciate the work done by students finishing up their transportation engineering and planning programs. See below for a recap of some outstanding projects from graduating Master of Urban and Regional Planning (MURP) students in PSU's Toulan School of Urban Studies and Planning.
Master of Urban Planning (MURP) Workshop Projects
Nixyáawii Watikš
Team: Victoria Young, Jenny Mazzella, Nick Hadfield, Brian Liu, Sara Goldstein, Owen Christofferson
East Oregonian coverage of the project: Portland State University students partner with tribes to plan trail.
Gorge and Mount Hood Regional Park & Ride
Team: Emily D'Antonio, Aidan Simpson, Jessa Miller, Kadin Mangalik, Beth Whitener, and Harrison Husting
Gorge and Mt Hood Park and Ride Assessment.
Tree Canopy Development in the 82nd Avenue Corridor
Team: Amber Shackelford, Alvin Dimalanta, Caleb Susuras, Darby O'Brien, Eiji Toda
Fremont Bridgehead Reclamation
Team: Megan Grzybowski, Ananda Gordon-Peabody, Ian Meisner
Portland State University's Transportation Research and Education Center (TREC) is home to the U.S. DOT funded National Institute for Transportation and Communities (NITC), the Initiative for Bicycle and Pedestrian Innovation (IBPI), PORTAL, BikePed Portal and other transportation grants and programs. We produce impactful research and tools for transportation decision makers, expand the diversity and capacity of the workforce, and engage students and professionals through education and participation in research.
Share this: