PSU PhD Student Jaime Pablo Orrego-Oñate Wins $15K Oregon Sylff Fellowship
Posted on July 21, 2020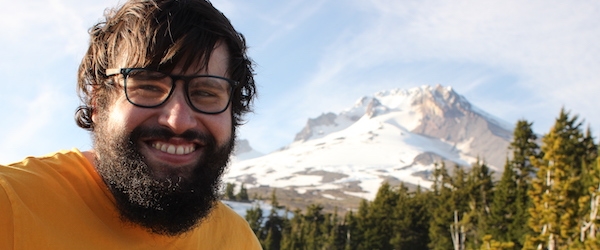 Learn more about Jaime Orrego-Oñate: Follow him on Twitter or connect on LinkedIn
---
Jaime Orrego-Oñate, a civil engineering PhD candidate at Portland State University (PSU), has been awarded a $15,000 Oregon Sylff Fellowship for International Research. As a Chilean national completing a Ph.D. in transportation engineering at PSU, Jaime is poised to promote the expansion of American research abroad into countries that lack research resources. His research focuses on understanding the role of the urban form in active transportation decisions. With his work, he hopes to address an information gap between pedestrians' motivations to walk and how urban planners can encourage this behavior. This is of particular importance in the context of Jaime's home region, Latin America, where walking has been decreasing due to the rise of use of private automobiles.
"I want to spearhead positive change by convincing societies like mine that they can improve urban development," Orrego-Oñate said.
The Sylff program aims to identify and nurture leaders who will overcome differences in nationality, language, ethnicity, religion, and political systems to tackle global issues, and whose high integrity and drive to address issues unique to their respective countries can make a real difference. Fellowship stipends are awarded to full-time doctoral students for one academic year of graduate work involving research and scholarly endeavors in programs and projects with an international dimension.
As a doctoral student in active transportation planning at PSU, Jaime works with Dr. Kelly Clifton as part of the SUPER Lab team, an interdisciplinary group that conducts research on the links between human behavior, technology, and the built, social, and natural environment. As part of his doctoral research, he intends to propose a new contextual characterization of the built environment. There is consensus that environmental factors, such as the built environment, influence mode choice. However, there is still contradictory evidence about how much. Jaime's doctoral work in this area can add much-needed clarity to that discussion by providing a deep analysis of contextual conditions that would make the association between the built environment and walking easier to interpret.
Working with SUPER lab, Jaime has contributed to the expansion of pedestrian modeling tools beyond the Portland region by helping to develop guidelines for context-sensitive pedestrian modeling. He also presented a poster at the 2020 TRB annual meeting, "Nonlinearities In The Relationship Between The Built Environment And Metropolitan Structure With Automobile And Walking Modal Share."
In his time at Portland State, Jaime has taken an active role in both research and policy deliberation. He first began taking note of the lack of scientific evidence in policymaking during his undergraduate years in Santiago, Chile, when a new transit system was implemented in the city – and soon thereafter, failed completely. Prior to the transit system failure, the faculty at his university had warned the government that the proposed system had poor foundations. To gain a firsthand perspective on policymaking in the United States, he joined the Portland Bureau of Transportation (PBOT) Central City in Motion Working Group, a team charged with ensuring the successful implementation of Central City in Motion projects. The group aims to review transportation projects in central Portland and ultimately reduce automobile dependency. Learning about policy implementation in the field will assist him, he believes, in taking an active role in policy reform.
Jaime's instructors describe him as "a passionate leader in the transportation engineering field" and someone who shows a lot of commitment: spending time explaining and helping students as a teaching assistant, and devoting time to interdisciplinary methods and data analysis as a research assistant. He is also a passionate advocate for pedestrians and cyclists.
"I specifically aim to focus on cities outside of the United States and North America, thus expanding the influence and scope of available transportation research. As a Chilean citizen, I want to direct my research towards Latin America and bring my region to the global stage while also using the practical application of my research to affect positive change," Orrego-Oñate said.
The Transportation Research and Education Center (TREC) at Portland State University is home to the National Institute for Transportation and Communities (NITC), the Initiative for Bicycle and Pedestrian Innovation (IBPI), and other transportation programs. TREC produces research and tools for transportation decision makers, develops K-12 curriculum to expand the diversity and capacity of the workforce, and engages students and professionals through education.
Share this: