PSU Researchers Will Work With PBOT To Evaluate New 122nd Avenue BIL Project
Posted on February 23, 2023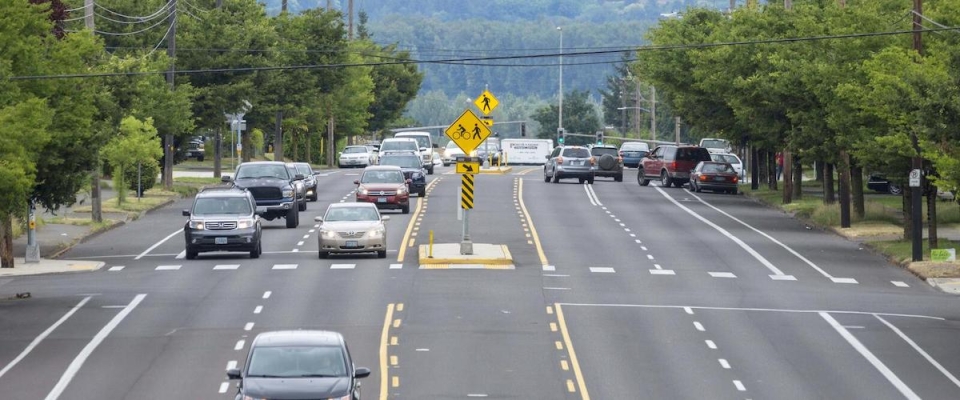 Portland State University transportation researchers will partner with the Portland Bureau of Transportation (PBOT) to evaluate a new project on 122nd Avenue in Portland, Oregon. 
The Bipartisan Infrastructure Law (BIL) established the "Safe Streets and Roads for All" program to provide $5-6 billion in funding to support regional, local, and Tribal initiatives to prevent roadway deaths and serious injuries. On Feb. 1, 2023, U.S. Transportation Secretary Pete Buttigieg announced $800 million in grant awards for 510 communities through the first round of funding for the Safe Streets and Roads for All (SS4A) grant program. 
See the full list of awarded projects here.
PBOT was awarded $20 million to make 122nd Avenue safer for all road users, and around $250,000 of that will go toward a research project to evaluate the effectiveness of the new safety treatments. The project will employ low-cost, high-benefit treatments on 5.5 miles of 122nd Avenue in Portland, Oregon, which is in the top 5% of the Portland metropolitan area's most deadly and injurious streets. 
PBOT has identified five primary factors for these issues: 
Open two-way left-turn lanes;

Substandard street lighting;

Long distances between pedestrian crossings;

Speed;

Wide intersections without protections for pedestrians or bicyclists. 
Interventions funded by the new grant will include filling gaps in street lighting; converting existing parking to four miles of protected bike lanes; making signal improvements for pedestrians and bicyclists; reducing vehicle lanes; and adding new features including:
seven pedestrian crossings, 

raised center medians along 1.5 miles of two travel lanes, 

11 raised medians for four travel lanes, 

street trees along the entire 5.5 mile corridor, 

nine bus stop curb extensions, 

six speed reader boards with automated enforcement, and 

one roundabout.
The evaluation team of researchers from PSU's Transportation Research and Education Center (TREC) will include faculty from both the Civil and Environmental Engineering (CEE) program as well as the College of Urban and Public Affairs (CUPA). 
Photo courtesy of Portland Bureau of Transportation
Portland State University's Transportation Research and Education Center (TREC) is home to the U.S. DOT funded National Institute for Transportation and Communities (NITC), the Initiative for Bicycle and Pedestrian Innovation (IBPI), PORTAL, BikePed Portal and other transportation grants and programs. We produce impactful research and tools for transportation decision makers, expand the diversity and capacity of the workforce, and engage students and professionals through education and participation in research.
Share this: