Seleta Reynolds shares equity, technology concerns at Niles Lecture
Posted on October 20, 2015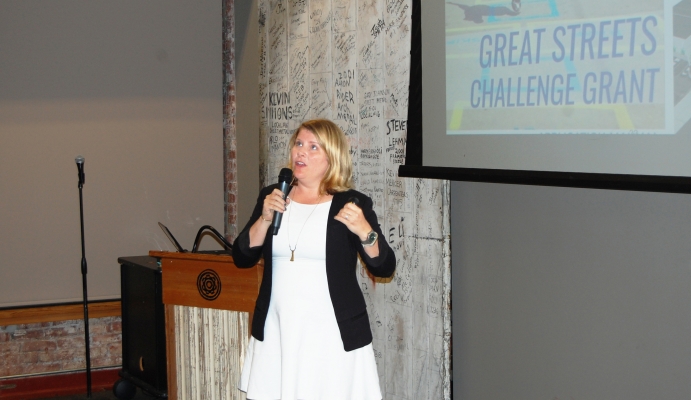 Seleta Reynolds of the Los Angeles Department of Transportation treated attendees of the Ann Niles Active Transportation Lecture to a provocative, entertaining presentation Oct. 6. Reynolds, the head of a 2,000-employee department, offered a perspective on striving for equity in a huge, diverse city.

TREC's Initiative for Bicycle and Pedestrian Innovation program, or IBPI, Reynolds filled the Billy Frank Jr. Conference Center at the Ecotrust building in northwest Portland Oct. 6. Her presentation ranged from Vision Zero to autonomous vehicles.

The Niles lecture series serves as a legacy to Ann Niles, an advocate for livable neighborhoods in Portland. The lecture also coincided with the kickoff of a two-year campaign to create the IBPI Innovation in Active Transportation Endowed Scholarship, designed to help Portland State attract and retain the best and brightest students.

In Los Angeles, making sure transportation decisions benefit all residents is a constant and evolving challenge, Reynolds said at the lecture. All communities need to be at the table for discussions that affect them. The key, Reynolds said, is to "listen quietly and speak with humility."


That mindset is helpful, but not sufficient for equity concerns. Traditional ways to get around are being joined by newer technologies, Reynolds said—technologies that can upend cities if policymakers aren't up to speed. What's needed, Reynolds said, is a two-pronged approach: infuse equity into new shared-use mobility options while at the same time promoting and thanking people for walking, cycling and using transit.
Allowing new transportation models, including ride-hailing apps such as Lyft and Uber, to operate in an unregulated environment turns over stewardship of a city to the market —which doesn't have the same concerns about transportation serving all residents. Once those services, and newer technologies, become established, it's much harder to compel them to advance city transportation objectives. Those negotiations have to take place at the outset, Reynolds said.
Los Angeles, Reynolds told the students, moves more vehicles with the same amount of infrastructure than any other city in the world. That's in large part to an advanced traffic control center called ATSAC, the Automated Traffic Surveillance and Control system.
Transportation in L.A., despite its proficiency at—and reputation for— vehicle mobility, has always included more than automobiles, Reynolds said. "People in L.A. are wanting to use streets differently," she said. "They are giving up cars and are hungry for other options to get around."
Share this: