Student Spotlight Video: Kelly Rodgers on Vision Zero in the 2018 Portland Regional Transportation Plan
Posted on April 23, 2020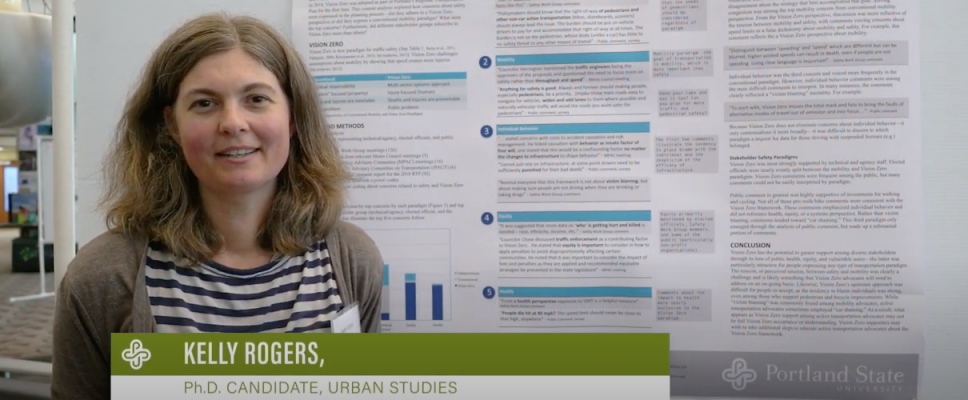 In 2018, Vision Zero was adopted as part of Portland's Regional Transportation Plan for the first time. This content analysis explored how concerns about safety were expressed in the planning process—did they adhere to a Vision Zero perspective or did they express a conventional mobility paradigm? What were the top concerns? Furthermore, did different stakeholder groups subscribe to Vision Zero more than others? Kelly Rodgers, a PhD student in the Toulan School of Urban Studies and Planning at Portland State University, explores paradigm conflicts around implementing vision zero in Portland.
Watch the interview with Kelly.
Kelly Rodgers is a PhD student in Urban Studies who is studying the use and influence of health indicators in transportation decision-making. She has been twice awarded the Dwight D. Eisenhower Transportation Fellowship and twice named a NITC Student Scholar. Kelly is also the Executive Director of Streetsmart, a non-profit organization developing an evidence-based platform that helps civic leaders integrate health, climate, and equity concerns into transportation. Kelly is the vice-chair of the Institute of Transportation Engineers' Health and Transportation Standing Committee, a member of the Transportation Research Board's Transportation and Public Health Committee, and is an advisory board member of the American Public Health Association's Center for Climate, Health, and Equity. Kelly also serves on the inaugural steering committee of Planning for Health Equity, Advocacy, and Leadership (PHEAL), a group of nearly 80 planning, public health, and other built environment practitioners who have written guiding principles that reaffirm health equity as a superior model for community planning. Kelly graduated with a Master in Landscape Architecture from the University of British Columbia and a Bachelor of Arts in Urban and Regional Planning from Miami University.
Share this: