Two New Portland State University Projects will Support Engineering Resilient Infrastructure for FHWA
Posted on April 1, 2022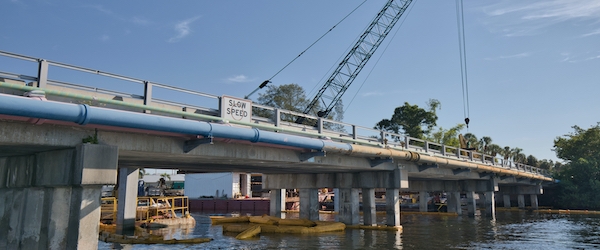 David Yang, an assistant professor in the Department of Civil and Environmental Engineering at Portland State University, is the principal investigator on two newly-awarded research projects for the Federal Highway Administration (FHWA) in support of its structural engineering programs.
"As the transportation infrastructure continues to age in an ever more uncertain future, it is essential to assess and manage infrastructure risk during the evaluation, maintenance, and rehabilitation processes. These two projects are dedicated to the development of such risk-informed approaches for existing culverts, bridges, and tunnels," Yang said.
In the first project, Framework and Methodology for Risk-Based Bridge and Tunnel Asset Management, an infrastructure team led by Yang with co-PIs Diane Moug, Arash Khosravifar, and Avinash Unnikrishnan will use a three-year grant from the Federal Highway Administration to develop a framework and a methodology for asset management of bridges and tunnels.
Bridges and tunnels need to address the daily transportation needs of the traveling public and provide capacity and emergency service before/during/after extreme events. States may achieve the best possible transportation network performance through a properly planned asset management strategy. This project aims to develop a comprehensive and risk-based methodology that can consider all credible risks and their variations when maintenance and retrofitting actions are selected and implemented. This project will examine both regular operation, such as daily traffic fluctuation or planned maintenance/construction, and extreme events that have recurring intervals significantly greater than bridge design life span.
In the second project, Risk-Based Methodology for Structural Evaluation of Bridge-Sized Culverts, Yang and co-PIs Kevin White of E.L. Robinson Engineering of Ohio and Timothy Wood of The Citadel Military College of South Carolina will use another three-year FHWA grant to evaluate the structural integrity and assess risks for long-span culverts.
Many long-span culverts are subject to loads from heavy trucks, and thus need to be evaluated for their load carrying capacities to estimate safety margins. However, the current manual on bridge evaluation provides limited guidance for bridge-sized culverts due to their distinct structural configurations and different consequences of culvert overload. The project will develop a risk-based approach that can calibrate the varying target reliability levels of culverts and the associated load and resistance factors used for structural evaluation. By investigating all critical risk factors relevant to culvert safety under vehicle load, this research will formulate a risk-based methodology for evaluating bridge-sized culverts.
These two projects will support respectively the seismic and multi-hazard resilience program and the load rating program of FHWA, addressing its strategic goals and objectives in safety, infrastructure, innovation, and accountability.
The Transportation Research and Education Center (TREC) at Portland State University is home to the National Institute for Transportation and Communities (NITC), the Initiative for Bicycle and Pedestrian Innovation (IBPI), and other transportation programs. TREC produces research and tools for transportation decision makers, develops K-12 curriculum to expand the diversity and capacity of the workforce, and engages students and professionals through education.
Photo by Glen Richard/iStock
Share this: