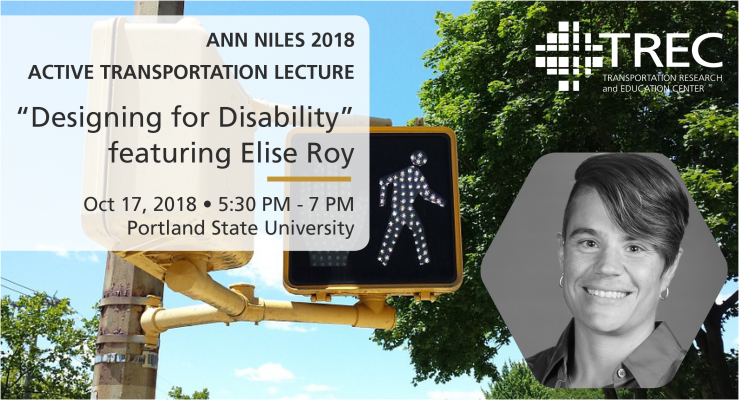 DATE:
Wednesday, October 17, 2018,

5:30pm

to

7:00pm

PDT
COST:
FREE - Capacity is limited and pre-registration is required
LOCATION:
Lincoln Recital Hall at Portland State University - 1620 SW Park Ave, Portland, OR 97201
CLICK HERE TO RSVP FOR THE LECTURE
We will be providing ASL interpreters and CART services at this event.
The lecture will begin promptly at 5:30 p.m; doors and seating to the lecture hall begins at 5:00 p.m.
Every year the Transportation Research and Education Center (TREC) at Portland State brings a world-class speaker to speak on active transportation - with the support of the Ann Niles endowment for our program the Initiative for Bicycle and Pedestrian Innovation (IBPI). This year the lecture is part of the annual Portland State of Mind.
This year, in celebration of Portland State's "Disability as Diversity" month of October here on campus, we invited Elise Roy to share her unique perspective on how active transportation interfaces with the Deaf community and others with unique needs. In the City of Portland and surrounding regions, it's critical that we consider all users at the beginning of the design process for walking, biking, and transit.
Elise Roy (see full bio) is a deaf human-centered designer, former lawyer, and motivational speaker who works in the vanguard of the disruptive innovation movement. She is a passionate proponent of the notion that when we design for disability, we often develop solutions that are better than when we design for the norm. A highly skilled public speaker, she has given talks at Microsoft, the U.S. Institute for Peace, the United Nations, and the World Bank. Her TEDx talk, "When we Design for Disability, We All Benefit," has over 1.2 million views.
Elise's deafness has always given her a heightened awareness of how profoundly design shapes the social, emotional and physical environment and this led her to study human-centered design in Maryland Institute College of Art's (MICA) Social Design program. She completed a master's degree with a thesis that investigated the barriers that exist for individuals with hearing loss in the fabrication technology and design realm. In 2016 Elise founded Elise Roy & Associates, a social enterprise that helps organizations analyze problems from the vantage point of people with disabilities to disrupt markets and industries. The organization is founded on the notion that when we design for extremes we come up with better solutions than when we design for the norm.
Part of the evening will include a conversation between Elise and Dr. Paula Carder, Director of Portland State University's Institute on Aging, as they explore further how universal design in mobility options and infrastructure truly does benefit everyone at every stage of life.
DIRECTIONS
The accessible entrance to Lincoln Hall is on Broadway. Enter on the ground floor and proceed straight ahead down the hall to the opposite end of the building, then turn left and the Recital Hall will be one of two doors on your left.
SUPPORT PROVIDED BY
Ann Niles Endowment
National Institute for Transportation and Communities
RELATED EVENTS
In addition to this fall lecture, TREC is excited to continue the conversation on orientation and mobility with our future upcoming events:
***
The Ann Niles Active Transportation Lecture is a unique opportunity to bring world-class thinkers on pedestrian and bicycle issues to Portland State University (PSU) and the active transportation community in the Portland metro region. The annual lecture serves as a legacy to Ann Niles who was a strong advocate for livable neighborhoods, safer pedestrian and bicycle infrastructure, and served on many transportation-focused boards and committees in Portland. The forum furthers the mission of our Initative for Bicycle and Pedestrian Innovation (IBPI) program to facilitate the exchange of knowledge among scholars, practitioners and community advocates around issues of active transportation. By promoting dialogue across disciplines and interests, this lecture series supports PSU's mission to "let knowledge serve the city."