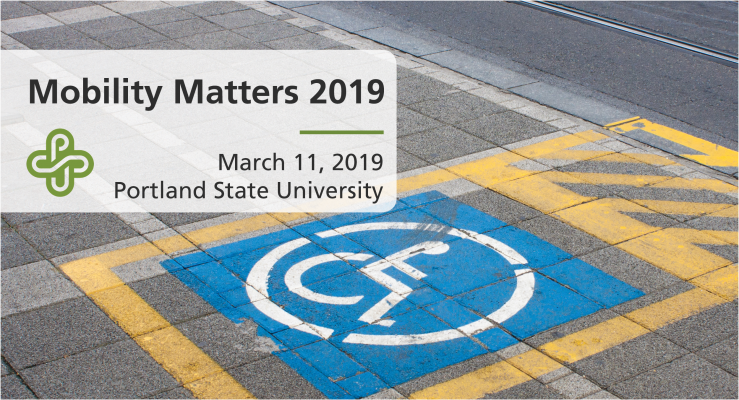 DATE:
Monday, March 11, 2019,

8:00am

to

5:00pm

PDT
LOCATION:
Smith Memorial Student Union, 1825 SW Broadway, Portland, OR 97201
Event Overview
Portland State University's College of Education and the Transportation Research and Education Center (TREC) are excited to reprise this 2nd annual interdisciplinary event in 2019. We invite disability specialists, urban planners, engineers, transportation professionals, students, and community members to discuss the nexus between design, innovation, technology, and access. Conference themes will examine technological innovations that improve accessibility and wayfinding; smart cities; interdisciplinary approaches for intersections; unequal access to safe roads for those with disabilities who are persons of color; and opportunities for regional coordination across adjacent metropolitan areas, with an emphasis on Cascadia.
SEE THE FULL PROGRAM AND REGISTER
Schedule of the Day
This an overview of the day, see the full program and speaker profiles here. We are submitting these sessions for continuing education credit consideration with both ACVREP and AICP.
8:00 AM - Breakfast and Networking
8:30 AM - Opening Welcome: The Nexus of Disability, Race, Equity, Inclusive Design, Testbeds, Smart Cities
8:45 AM - Integrated Mobility Innovation in Policy and Research
9:15 AM - Lived Experiences and Civic Engagement: Community Partnership in Design, Testing and Deployment
11:00 AM - Applications & Testbeds in Accessible Mobility: Innovations on the Mainstage
12:15 PM - Lunch + Networking Break
1:15 PM -  Afternoon Breakouts and Mobile Walkabouts
---Indoor Wayfinding: New Frontiers
---Tactile Maps and 3-D printing on Campus Testbeds
---Crossing Safely: Technology at Intersections through Traffic Signals and Smart Paint
---Improving Accessibility through Mapping and Collecting Pedestrian Pathway Data
---Applying an Equity Lens to Transportation Planning and Design
4:00 PM - Coming Back Together: A Facilitated Discussion of Findings
5:00 PM - Networking and Next Steps
If you would like to promote this event with your colleagues, you may download a promotional flyer (PDF) here.
Registration
All tickets include a continental breakfast, coffee, tea, water, and lunch. Questions? Contact us at omsummit@pdx.edu.
General Admission
Regular Rate - $130
Students
Regular Rate - $45
Summit Hosts
Learn more about the growing PSU partnership on orientation and mobility.

Special Education at the College of Education (COE) at Portland State University
COE is the largest and most comprehensive school of education in Oregon, offering more than 50 programs in education and counseling. The hybrid online Orientation and Mobility program is the regional program for the Pacific and Northwest Consortium for Vision Education, comprised of six states: Oregon, Washington, Hawaii, Idaho, Alaska and Montana. The O&M program is closely affiliated with the College's nationally accredited Visually Impaired Learner (VIL) program.
Transportation Research and Education Center (TREC) at Portland State University
TREC is home to the National Institute for Transportation and Communities (NITC), the Initiative for Bicycle and Pedestrian Innovation (IBPI), and other transportation programs. TREC produces research and tools for transportation decision makers, develops K-12 curriculum to expand the diversity and capacity of the workforce, and engages students and young professionals through education.
Additional Support Provided By
Digital City Testbed Center
National Institute for Transportation and Communties
Metro
WTS Portland Chapter
ITE Portland Chapter
AER Oregon Chapter
Intelight
ADD TO CALENDAR