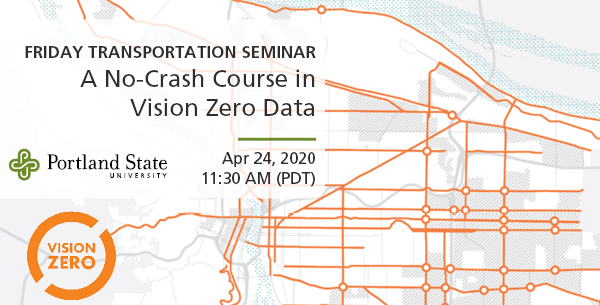 DATE:
Friday, April 24, 2020,

11:30am

to

12:30pm

PDT
SPEAKERS:
Anamaria Perez, Portland Bureau of Transportation
COST:
Free and open to the public
Friday Transportation Seminars at Portland State University have been a tradition since 2000. You can join us online at 11:30 AM.
Periodically, we're teaming up with the Portland Bureau of Transportation (PBOT) to bring you special editions—featuring guest speakers from PBOT—merging our seminar series and the long-standing PBOT Lunch & Learn. This seminar is part one of a two-part series on Vision Zero. See part two with Matt Kelly.
PRESENTATION ARCHIVE
THE TOPIC
Vision Zero was adopted unanimously by Portland City Council in 2015 with the goal of eliminating traffic deaths and serious injuries on Portland streets in a way that is equitable, accountable, and data-driven. But what does it mean to be data-driven? And should we stop there? 
In this presentation, learn how Portland's Vision Zero Action Plan was developed and how the Vision Zero team is using data to move into a future where all Portlanders can travel safely, regardless of the travel mode they use. Explore the datasets used in Vision Zero implementation and the challenges that come with them. Learn about the projects where creativity and innovation play a critical role by stretching beyond what is traditionally thought of as transportation safety, including automated enforcement and citywide crash analysis. 
KEY LEARNING TAKEAWAYS
What it means to be data-driven vs data-informed, especially in a long-term program setting 
What datasets the PBOT Vision Zero team uses for program implementation
Data limitations and how to stay aware of them
SPEAKER
Anamaria Perez, Portland Bureau of Transportation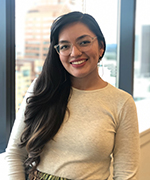 Anamaria Perez is a Vision Zero Data Analyst at the City of Portland Bureau of Transportation (PBOT). She conducts crash and safety analysis to advance the Vision Zero program, supports planners and project managers on safety, and creates innovation around how PBOT thinks about data. Leading her work with integrity as one of her core values, Anamaria is an advocate for transportation, environmental, and mobility justices. She holds a B.S. in Meteorology from San Jose State University and an M.S. in Environmental Management and a GIS Certification from the University of San Francisco.
PROFESSIONAL DEVELOPMENT
This 60-minute seminar is eligible for 1 hour of professional development credit for AICP (see our provider summary). We provide an electronic attendance certificate for other types of certification maintenance.
LEARN MORE
Sign up for our newsletter to receive monthly updates.
Image by Portland Bureau of Transportation (PBOT)
The Transportation Research and Education Center (TREC) at Portland State University is home to the National Institute for Transportation and Communities (NITC), the Initiative for Bicycle and Pedestrian Innovation (IBPI), and other transportation programs. TREC produces research and tools for transportation decision makers, develops K-12 curriculum to expand the diversity and capacity of the workforce, and engages students and professionals through education.