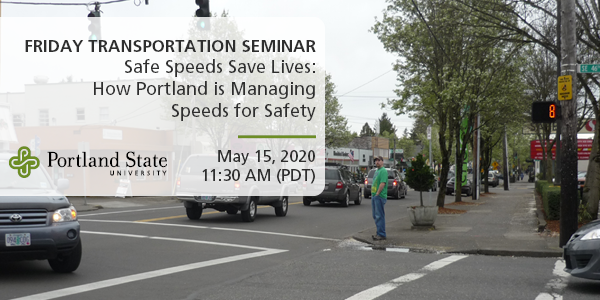 DATE:
Friday, May 15, 2020,

11:30am

to

12:30pm

PDT
SPEAKERS:
Matt Kelly, Portland Bureau of Transportation
Periodically, we're teaming up with the Portland Bureau of Transportation (PBOT) to bring you special editions—featuring guest speakers from PBOT—merging our seminar series and the long-standing PBOT Lunch & Learn. This seminar is part two of a two-part series on Vision Zero. See part one with Anamaria Perez.
PRESENTATION ARCHIVE
THE TOPIC
Speed is a key factor in how people experience Portland's streets. Appropriate speeds help prevent crashes, reduce the harmful consequences of crashes, and can help streets become more comfortable and sociable spaces that support a variety of travel modes and uses. The Portland Bureau of Transportation will share information on how the City of Portland is supporting safe travel speeds through its Vision Zero work. Topics will include the left turn calming pilot project, speed safety cameras, speed limit reductions, and road reorganizations. Data on the results of these interventions will be shared, along with discussion of next steps for helping people travel at safe speeds in Portland.
Visit the City of Portland's Vision Zero site for their 2019 update to Portland's Vision Zero Action Plan.
KEY LEARNING TAKEAWAYS
Speed is a core aspect of designing streets for safety and comfort.
Portland is using a variety of tools to support safe speeds, including at intersections.
Managing speeds on multilane arterial streets remains a challenge.
SPEAKER
Matt Kelly, Portland Bureau of Transportation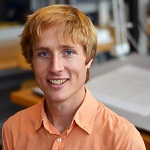 Matt Kelly is a Vision Zero Specialist at the Bureau of Transportation in Portland, Oregon; it is a position he has held since 2015. He has two Master's degrees from the University of Michigan in Urban Planning and in Communications.
PROFESSIONAL DEVELOPMENT
This 60-minute seminar is eligible for 1 hour of professional development credit for AICP (see our provider summary). We provide an electronic attendance certificate for other types of certification maintenance.
LEARN MORE
Sign up for our newsletter to receive monthly updates.
Image by Portland Bureau of Transportation (PBOT)
The Transportation Research and Education Center (TREC) at Portland State University is home to the National Institute for Transportation and Communities (NITC), the Initiative for Bicycle and Pedestrian Innovation (IBPI), and other transportation programs. TREC produces research and tools for transportation decision makers, develops K-12 curriculum to expand the diversity and capacity of the workforce, and engages students and professionals through education.