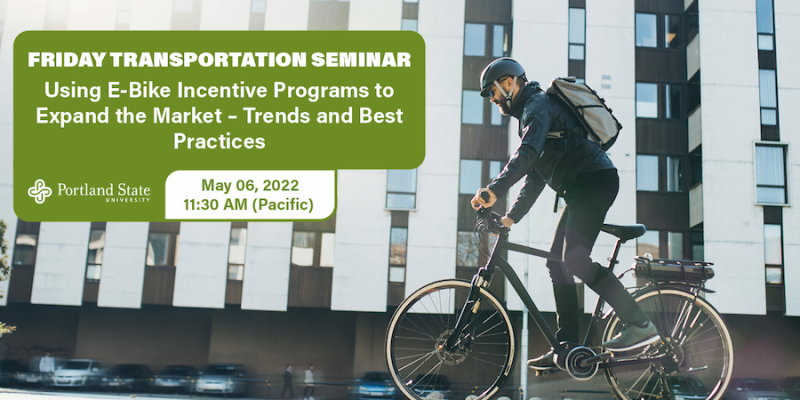 DATE:
Friday, May 6, 2022,

11:30am

to

12:30pm

PDT
SPEAKERS:
John MacArthur and Cameron Bennett, PSU
COST:
Free (watch online or in-person)
LOCATION:
ONLINE and IN-PERSON: PSU's Vanport Building (Room 269) 1810 SW 5th Ave Portland, OR 97201
Friday Transportation Seminars at Portland State University have been a tradition since 2000. You can join us online or in-person (proof of vaccination required, see below) at 11:30 AM. All presentations are recorded and shared on the event page afterwards.
PRESENTATION ARCHIVE
THE TOPIC 
John MacArthur and Cameron Bennett of Portland State University will be presenting the findings and recommendations from their recent white paper "Using E-Bike Incentive Programs to Expand the Market – Trends and Best Practices." This will include a review of the 50+ current, past, and proposed e-bike purchase incentive programs in North America, including summary statistics and details from exemplary programs. Best practice gained from review of the programs and discussion with program managers, industry professionals, and other stakeholders will be shared. A discussion of the benefits of promoting e-bike uptake in regard to mode shift, VMT, emissions, and human health will be provided to support the value added by an incentive program. Finally, John and Cameron will preview upcoming results from their stated preference survey intended to provide quantitative guidance for e-bike purchase incentive program design.
This event is part of Portland State University's annual Research Week, hosted May 2 - 6, learn more.
KEY LEARNING OUTCOMES
Benefits of e-bikes for achieving mode shift, VMT, emissions, and health goals
An overview of current e-bike purchase incentive programs in North America
Best practice guidance for the design of an e-bike purchase incentive program
THE RESEARCH
This presentation is based on a study funded by the National Institute for Transportation and Communities (NITC) with support from PeopleForBikes, and conducted at Portland State University. Read more about the project: How Can E-bike Purchase Incentives Grow the E-bike Market?, and learn more about the online e-bike incentive program tracker.
SPEAKERS
John MacArthur, TREC at Portland State University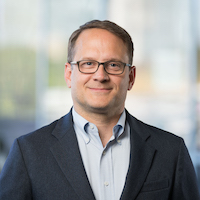 Mr. John MacArthur is the Sustainable Transportation Program Manager at TREC at Portland State University and an instructor in civil and environmental engineering, teaching on new & emerging technologies in transportation. He is active in research related to sustainable and equitable transportation, particularly in the areas of emerging tech such as e-bikes, bike share, transit, and the relationship between transportation and public health. Mr. MacArthur is the Section Chair for Transportation Research Board's AME00 Transportation and Society and a member of Innovative Public Transportation Services and Technologies (AP020). He received his BS in Civil Engineering from Lehigh University and a MS in Environmental Health Sciences from the School of Public Health at the University of Michigan.
Cameron Bennett, Civil & Environmental Engineering, Portland State University
PROFESSIONAL DEVELOPMENT
This 60-minute seminar is eligible for 1 hour of professional development credit for AICP (see our provider summary). We can provide an electronic attendance certificate for other types of certification maintenance.
COVID-19 SAFETY PROTOCOLS
Attendance at this in-person event on the PSU campus requires valid proof of COVID-19 vaccination.
Valid proof of COVID-19 vaccination is either a hard copy or a picture of a vaccination card showing a vaccine series was completed at least two weeks prior to the event date. Documentation of a recent (within the last 48 hours) COVID-19 test with a negative result is either a printout or picture of results that include your name and test date. Proof of boosters not required at this time, and your medical data will not be recorded during the spot-check at the door.
Effective March 19, 2022, Portland State University no longer requires that masks be worn in classrooms, offices, and most other public and private indoor spaces.
As PSU shifts into the next phase of the response to COVID-19, we understand that some in our community may feel more comfortable continuing to wear a mask. That is a personal decision that we wholeheartedly support. We ask that our community respect the choice of people who keep their masks on, but to refrain from asking others to wear a mask. Disposable masks will continue to be available at PSU building entrances.
Photo by Halfpoint/iStock
Sign up for our newsletter to receive monthly updates.
The Transportation Research and Education Center (TREC) at Portland State University is home to the National Institute for Transportation and Communities (NITC), the Initiative for Bicycle and Pedestrian Innovation (IBPI), and other transportation programs. TREC produces research and tools for transportation decision makers, develops K-12 curriculum to expand the diversity and capacity of the workforce, and engages students and professionals through education.