PSU Masters Student Cameron Bennett Receives Eisenhower Fellowship
Posted on January 20, 2022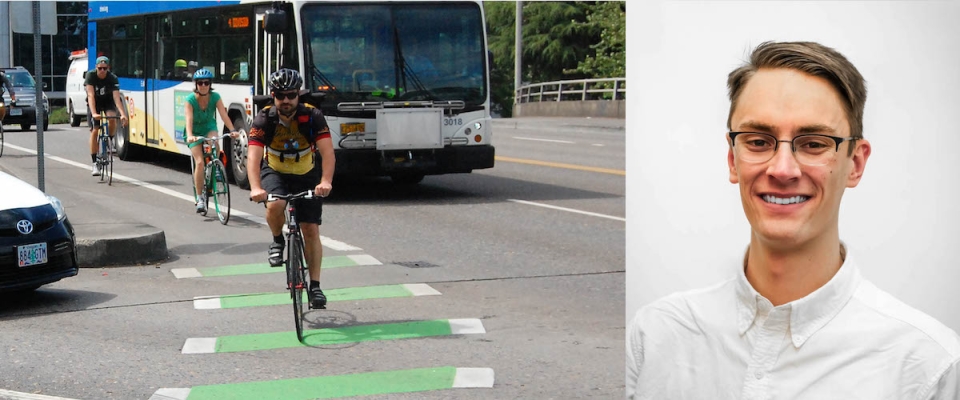 We are proud to congratulate Portland State University engineering masters student Cameron Bennett, who has been awarded a Dwight David Eisenhower Transportation Fellowship presented by the U.S. Department of Transportation at this year's annual meeting of the Transportation Research Board (TRB).
Connect with Cameron on LinkedIn.
Bennett is also the recipient of a 2021 Walter H. Kramer Scholarship, and current president of PSU student group STEP (Students in Transportation Engineering and Planning). His work focuses on promoting and facilitating the use of active transportation as a tool for equity, livability, and economic development. At TRB this year, he presented a poster: How E-Bike Incentive Programs Are Used to Expand the Market (PDF). He also helped to develop an online tool to track e-bike incentive programs in North America.
"I'm very excited to have received the Eisenhower award this year and I'm honored to be presenting at TRB. John MacArthur and I have been working on an update to the 2019 white paper How E-Bike Incentive Programs are Used to Expand the Market, and I'll be postering on our findings to-date. We hope to share this information with e-bike purchase incentive program managers and others interested in starting or supporting programs, all with the end goal of getting more e-bikes in more hands," Bennett said.
Cameron's work focuses on active transportation particularly as an alternative to the single-occupancy vehicle (SOV). He believes the ability to walk and bike for transportation is linked to economic development and access to opportunity, population health and safety; in contract to the SOV which he describes as "antithetical to most of these goals." Because of the difference in outcomes between SOVs and other modes of transportation, Cameron's academic and professional goals are grounded in the facilitation and promotion of mode shift away from SOVs. He sees e-bike research as one promising way to achieve this.
"My Eisenhower application proposed a research project looking at the effects of the COVID-induced "bike boom", in which bicycle retailers saw record sales numbers. The National Bicycle Dealers Association estimates that half of the cyclists currently on the road in the US started or restarted biking in the last two years! I'm curious whether the new bikes (and new cyclists) out in the wild are changing travel choices at all, particularly whether or not they are replacing any car trips," Bennett said.
The Dwight David Eisenhower Transportation Fellowship Program advances the transportation workforce by helping to attract the nation's brightest minds to the field of transportation, encouraging future transportation professionals to seek advanced degrees, and helping to retain top talent in the U.S. transportation industry.
See other past PSU recipients of various transportation scholarships on our scholars page.
The Transportation Research and Education Center (TREC) at Portland State University is home to the National Institute for Transportation and Communities (NITC), the Initiative for Bicycle and Pedestrian Innovation (IBPI), and other transportation programs. TREC produces research and tools for transportation decision makers, develops K-12 curriculum to expand the diversity and capacity of the workforce, and engages students and professionals through education.
Share this: