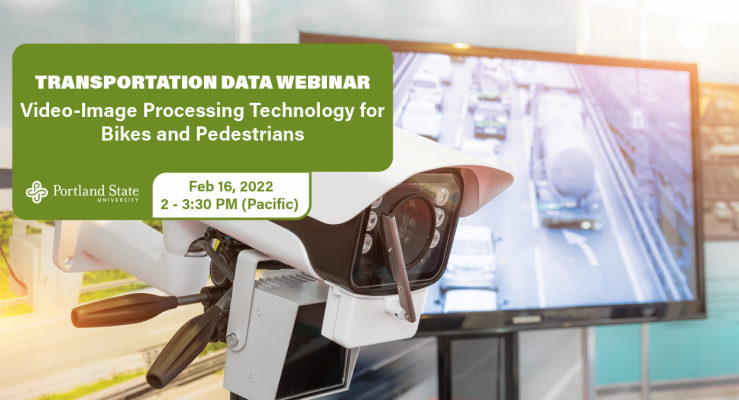 DATE:
Wednesday, February 16, 2022,

2:00pm

to

3:00pm

PST
SPEAKERS:
Subhadipto Poddar, Clark County; Shaun Quayle, Washington County; Chase Hildner, DKS
OVERVIEW
Join us for a two-part seminar looking at video-image processing technology for bicyclists and pedestrians.
FIRST PRESENTATION
Bicyclist Distinguishment at Traffic Signals Using Infrared Camera Techology
Shaun Quayle of Washington County, Oregon and Chase Hildner of DKS Associates
The speakers will summarize the goals and evaluation results of Washington County, Oregon's pilot project efforts to leverage infrared video cameras to distinguish bikes on approach at signalized intersections. They will also touch on the signal phasing and timing applications to be employed.
Key Learning Outcomes
Understanding of the problem cyclists often face at signalized intersections with legacy detection systems.
Results of Washington County's efforts to determine the accuracy of detection systems on distinguishing bicyclists from other roadway users.
Awareness of the signal timing applications to enhance cyclist safety.
SECOND PRESENTATION
Ped Counts - A Case Study of Clark County
Subhadipto Poddar of Clark County, Washington
With emerging video detection technologies, traffic detection has seen a major improvement over the past few years. Be it the vehicular detection for operational and safety studies or the pedestrian safety evaluation, deep learning algorithms like YOLO, RNN, CNN, and others have seemed to provide aid to different agencies across the globe. However, like all systems, the evaluation of these detection systems is a key to the system's behavior. The present work involves a case study of different video detection systems for Clark County, WA. The study involves verification of the systems in use, their evolution over the last few years, and key takeaways from them. Finally, a conclusion is drawn based upon the evaluation so conducted.
Key Learning Outcomes
Detection of pedestrians using video is not as easy as it seems.
How can agencies conduct simple evaluation of their existing systems.
Need to rely on video analytics for future transportation analytics.
SPEAKERS
Subhadipto Poddar, Clark County, Washington
Shaun Quayle, Washington County, Oregon
Chase Hildner, DKS Associates 
PROFESSIONAL DEVELOPMENT
This 60-minute seminar is eligible for 1 hour of professional development credit for AICP (see our provider summary). We provide an electronic attendance certificate for other types of certification maintenance.
THE TRANSPORTATION DATA WEBINAR SERIES
In Summer 2021 we launched a new periodic webinar series focused on the issues and topics important to multimodal transportation data, led by the the TREC Transportation Data Manager Tammy Lee with support from our PORTAL partners. This series is integrated with the PORTAL User Group monthly meetings.
Sign up for our newsletter to receive monthly updates.
Photo by aapsky/iStock
The Transportation Research and Education Center (TREC) at Portland State University is home to the National Institute for Transportation and Communities (NITC), the Initiative for Bicycle and Pedestrian Innovation (IBPI), and other transportation programs. TREC produces research and tools for transportation decision makers, develops K-12 curriculum to expand the diversity and capacity of the workforce, and engages students and professionals through education.