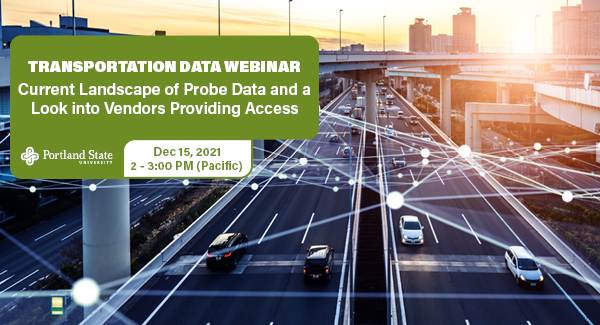 DATE:
Wednesday, December 15, 2021,

2:00pm

to

3:00pm

PST
SPEAKERS:
Scott Lee and Mark Skaggs, IDAX
PRESENTATION ARCHIVE
OVERVIEW
With so many Probe-Data Vendors in the market, and the fact that each offers their own unique solutions, it can be challenging to identify which vendor(s) would best meet the needs of an organization. Based on a study prepared for the Seattle Department of Transportation, this presentation will provide highlights around eight Probe-Data Vendors and their capabilities, limitations, and quality of data.
KEY LEARNING OUTCOMES
An understanding of primary vendors that offer probe data and related products
Key probe data sources used to put together data summaries
An understanding of the types of platforms that exist and basic analytical capabilities
Data quality considerations from each of the vendors offering probe data
SPEAKER
Scott Lee, CEO, IDAX Data Solutions
Mark Skaggs, Principal, COO, IDAX Data Solutions
PROFESSIONAL DEVELOPMENT
This 60-minute seminar is eligible for 1 hour of professional development credit for AICP (see our provider summary). We provide an electronic attendance certificate for other types of certification maintenance.
THE TRANSPORTATION DATA WEBINAR SERIES
In Summer 2021 we launched a new quarterly webinar series focused on the issues and topics important to multimodal transportation data, led by the the TREC Transportation Data Manager Tammy Lee with support from our PORTAL partners. This series is integrated with the PORTAL User Group monthly meetings.
Sign up for our newsletter to receive monthly updates.
Photo by metamorworks/iStock
The Transportation Research and Education Center (TREC) at Portland State University is home to the National Institute for Transportation and Communities (NITC), the Initiative for Bicycle and Pedestrian Innovation (IBPI), and other transportation programs. TREC produces research and tools for transportation decision makers, develops K-12 curriculum to expand the diversity and capacity of the workforce, and engages students and professionals through education.