Effect of Residential Street Speed Limit Reduction from 25 to 20 mi/hr on Driving Speeds in Portland, Oregon
Posted on December 29, 2020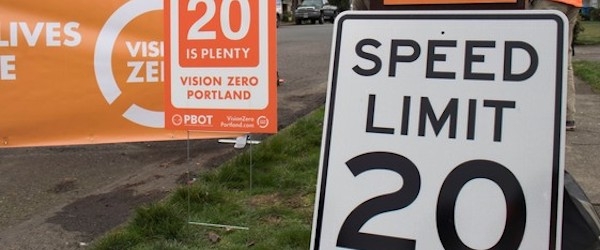 Photo by Portland Bureau of Transportation
Effect of Residential Street Speed Limit Reduction from 25 to 20 mi/hr on Driving Speeds in Portland, Oregon
In 2015, the City of Portland adopted Vision Zero's objective of eliminating transportation-related fatalities and serious injuries. Speed, through analysis of crash data, was determined to be a contributing factor in 47% of the fatal crashes observed in Portland. Thus, one of the pillars in the Vision Zero Action Plan is reductions in motor vehicle speeds. The Portland City Council approved an ordinance reducing the speed limit on all residential streets to 20 miles per hour (mph) in January 2018.
This research project, funded by the Portland Bureau of Transportation and conducted at Portland State University, looked at 58 locations before and after the speed limit change and found that the change likely reduced driving speeds by small but significant amounts.
While Christopher Monsere of PSU Civil Engineering served as the Principal Investigator on the project, the bulk of the analysis was completed by civil engineering professor Jason Anderson. Overall, the analysis suggests that the reduction of posted speed limits to 20 mph has resulted in lower observed vehicle speeds and fewer vehicles traveling at higher speeds (over 30 mph). It is most noteworthy that the reduction in the percentage of vehicles faster than 30 mph and 35 mph are larger in magnitude than the other changes. These changes are more meaningful for the Vision Zero speed reduction efforts, given the link to crash severity for vulnerable road users.
The Transportation Research and Education Center (TREC) at Portland State University is home to the National Institute for Transportation and Communities (NITC), the Initiative for Bicycle and Pedestrian Innovation (IBPI), and other transportation programs. TREC produces research and tools for transportation decision makers, develops K-12 curriculum to expand the diversity and capacity of the workforce, and engages students and professionals through education.
Share this: