Honoring Walter Kramer, Founder of the Center for Transportation Studies at PSU
Posted on May 26, 2021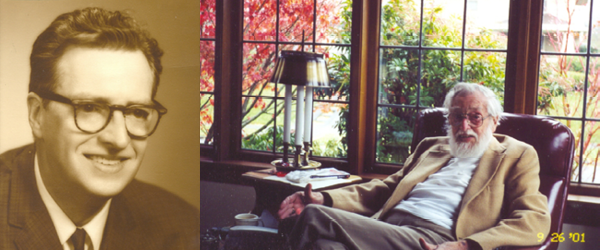 This story is adapted from two sources; a story published by the Center for Transportation Studies and one from a 2007 Oregon Transportation Research and Education Consortium (OTREC) newsletter.
Transportation research and education has had a long, rich history at Portland State University. Looking back on that history, TREC is celebrating the achievements of an early advocate for transportation studies on the PSU campus: Dr. Walter H. Kramer. 
PSU is a national leader in transportation studies and research, with TREC - the Transportation Research and Education Center - serving as the interdisciplinary hub connecting urban planning, civil engineering, and other disciplines to mobility. We take full advantage of our university's location in one of the most innovative transportation networks in the U.S. – Portland, Oregon. Since 2005 we have also led a collaborative, federally-funded UTC research program dedicated to improving the mobility of people and goods. But before TREC existed, transportation had another home at PSU: the Center for Transportation Studies, or CTS.
Dr. Kramer joined PSU in 1965 as a tenured professor with a transportation studies specialty, and the following year CTS was founded within the PSU Department of Marketing (now the School of Business Administration). Prior to his founding CTS, there was no dedicated school or department at PSU that elevated transportation as a discipline. Dr. Kramer devoted himself toward bringing "the resources of the faculty to bear on the [transportation] problems of the community."
Since Dr. Kramer's retirement in 1987, transportation research and education has continued to grow at PSU: in the degrees and courses offered, the students specializing in transportation at the College of Urban and Public Affairs and the Maseeh College of Engineering and Computer Science, and the multidisciplinary faculty being engaged in transportation issues. Dr. Kramer saw PSU's students capable of "determin[ing] the future of our cities, our society" through multimodal solutions.
(pictured left) and her husband, Mary Jo and Chris Chapman, a Walter H. Kramer Endowed Transportation Fellowship was established in 2007. The annual fellowship provides financial support to PSU graduate students enrolled in transportation-related graduate programs and working on multi-disciplinary, multimodal research. Over the past fourteen years, this scholarship has supported the work of students who are engaged with tackling the transportation system challenges facing us today. The most recent recipient of the Walter H. Kramer Fellowship is current PSU student Darshan Chauhan who is pursuing his PhD in civil engineering after completing his masters at PSU.
In 1968, the Portland State Viking magazine featured Professor Kramer in a four page feature (excerpts included here along with accompanying photographs):
Kramer believes the actions of an individual, of a college, can determine the future of our cities, our society. "Speaking as a member of the faculty I really think that PSC can be whatever I like it to be. It can be as good a school as I'm willing to make it. It can be a reflection of my own meagerness and sloth. Whatever its shortcomings the faculty has the power, if it wills, through hard work, to overcome them.
renamed to Portland State University in 1969] is its role as the urban college in the educational system. It arrives on the scene when the great domestic problem is the rapid urbanization of society. There's really great potential here. We can help build something in a meaningful way." 
With a continuing commitment to sustainable urban design and transportation, TREC is proud to carry on the legacy of Dr. Kramer. We are grateful for the foresight of the founding director of the Center for Transportation Studies. Reflecting back upon the original mission, and the philosophies of its director, it is clear that PSU's current mission is still building upon its history.
The Transportation Research and Education Center (TREC) at Portland State University is home to the National Institute for Transportation and Communities (NITC), the Initiative for Bicycle and Pedestrian Innovation (IBPI), and other transportation programs. TREC produces research and tools for transportation decision makers, develops K-12 curriculum to expand the diversity and capacity of the workforce, and engages students and professionals through education.
Share this: