New Transportation Curriculum for High School Students
Posted on March 18, 2021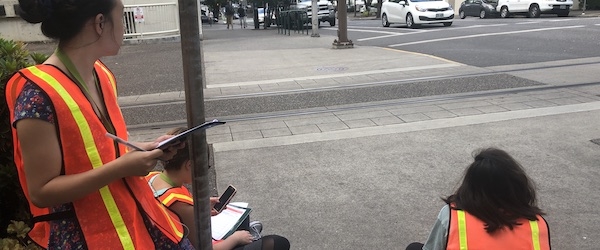 We've just published a brand new set of four "How Walkable is Your Neighborhood?" education modules for high school students (download here)!
The modules, which can be taught in sequence or as standalone lessons, provide students with creative ways of observing transportation systems in their neighborhoods through collecting pedestrian data, critically evaluating accessibility, and learning about livable communities. Students will gain a deeper understanding of how people move through their community, and whether the transportation in their community is designed with the needs of all people in mind. 
This curriculum was originally developed for the National Summer Transportation Institute (NSTI) - a STEM-focused transportation summer camp for high school students. In 2020, when the camps were converted to a virtual format for the first time, new tools had to be developed for student engagement and learning. These walkability modules were completed during the virtual camps, but are not dependent on a virtual format. They are provided as in-person activities with notes throughout on how to adapt them to a virtual learning experience:
Module 1: Observations by Foot
Module 2: Collecting the Data
Module 3: Crossing at the Intersection
Module 4: Final Project
Bonus Optional Activities: Transit Budgeting; Transportation Bingo
This curriculum was developed by Nora Stoelting, our Transportation Education Program Coordinator and current PSU student who is pursuing a dual master's degree in Leadership for Sustainability Education and Urban and Regional Planning at Portland State University. It was also supported by TREC Associate Director Hau Hagedorn, and with input from the many transportation professionals who have volunteered as guest camp instructors.
TREC TRANSPORTATION SUMMER CAMPS THIS JULY 2021
We have received funding for another year of the transportation summer camps in 2021 (July summer dates to be announced) and we will know more about the format of the camps as we monitor state and campus guidance on in-person events. In the meantime, add your name here to be notified about the camps.
The Transportation Research and Education Center (TREC) at Portland State University is home to the National Institute for Transportation and Communities (NITC), the Initiative for Bicycle and Pedestrian Innovation (IBPI), and other transportation programs. TREC produces research and tools for transportation decision makers, develops K-12 curriculum to expand the diversity and capacity of the workforce, and engages students and professionals through education.
Share this: