Teaching the Next Generation: Choosing Transportation as Your Path
Posted on September 21, 2020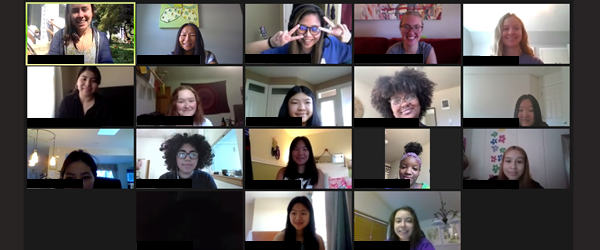 On March 23, 2020, Oregon — like many other U.S. states — was placed under a stay-at-home order to prevent the spread of COVID-19. At Portland State, we were faced with a decision: What to do about our 2020 transportation summer camps for Oregon high schoolers? 
Our camps, up to this year, have been defined by the in-person, on-campus experience. Previous cohorts toured Portland's bikeways, saw the inside of Multnomah County's bridges, and sat down with professional engineers and planners to talk about tricky traffic problems. Would the program survive the transition to a virtual format?
We had already received 52 applications from promising Oregon high schoolers, and decided the camp was too important to cancel. With the financial support of the Oregon Department of Transportation and the Federal Highway Administration, we were able to shift to a virtual camp and still fulfill our objectives:
Introduce high school students to professionals in transportation 

Teach them about the broad range of transportation careers and sectors 

Present the social justice and equity issues within transportation and how they relate to students, their families and their neighborhoods 

Introduce students to transportation systems in Portland 

Connect them with other high school students who are passionate about careers in STEM 

Have fun!
Of the 52 original applicants for the residential camp, 27 students signed up for the virtual experience. There were 12 campers in the girls' camp and 15 in the all-genders camp:
When surveyed after the camps, all the respondents indicated a fairly high level of interest (at least 3 or higher, on a 1-5 scale) in pursuing a career in transportation.
GOING VIRTUAL WITH TRANSPORTATION
Our transportation education program coordinator, Nora Stoelting, events administrator Theresa Somrak, and Associate Director Hau Hagedorn had just a few weeks to work with instructors and shift to an online curriculum. With four years of transportation camps under our belt, we had plenty of material to draw from. Our staff dove in with genuine enthusiasm and creative solutions. 
We switched up the camps to partial days over four weeks. In between online sessions there were weekly field exercises where students (masked for safety, and wearing reflective vests we provided) had to go out and collect data in their own neighborhoods. Despite the uncertainty going into it, the 2020 virtual camps turned out better than we could have imagined. Here are a few quotes from the students:
 "I was sad when I learned that it would be online, and I would have loved meeting everybody in real life. But it was actually so much fun, and it was formatted in a way where there was enough time to complete the projects at home and also stay engaged for those four weeks."

"After learning from the presenters, it made me begin to consider a job as a traffic engineer or as a planner of school routes. Transportation is a very special field because it has a big impact on people's daily lives and I feel that people sometimes take that for granted." 

"All of the speakers were amazing and I learned new things from each one. I really loved the speaker who talked about tactical urbanism because it was inspiring and felt like something that I could realistically do."
CREATING AN INTENTIONAL SPACE FOR CONNECTION: PEER MENTORS
Seeking to enhance the virtual experience, we hired peer mentors from Oregon colleges and universities: young adults who could give direction and guidance to the camp attendees. We found five outstanding mentors who worked with students (here are some of their blogs from the first camp) and really made the difference in terms of facilitating small group discussions: Aujai Webster, Desly Amurao, Dayana Camaal Perez, Noah Kulala, and Noah Kurzenhauser. 
"Transportation is an inherently multi-dimensional and protean field; it seems that new ideas are constantly arising, and individuals are beginning to draw connections to other societal factors (most prominently race and socioeconomic status).  Serving as a peer mentor in TREC's 2020 virtual summer camp afforded me the opportunity to assist in disseminating this information and sundry learning opportunities to the bright and enthusiastic youth that participated.  It was reassuring and calming, especially in today's volatile climate, to see that the upcoming generation is in good hands." - Noah Kurzenhauser, 2020 Peer Mentor

 "My relationship with my mentor was great. It was very nice having her check in on me each week and remind me of what was going on weekly. Having a mentor added positively to my overall camp experience." - 2020 Camp Participant
CENTERING RACIAL EQUITY IN THE CURRICULUM
The intersection of transportation and social equity has always been a major focus of our summer camps. Social equity is a broad umbrella term, but this year, in the midst of global protests against police brutality after the killings of George Floyd, Breonna Taylor and other unarmed black people by law enforcement officers, we zeroed in on how transportation intersects with racial equity. 
To this end, we reframed our curriculum to broaden students' understanding of racial equity as a core aspect of planning and engineering. In the history of the transportation field, harm has been caused through gentrification and neighborhood displacement, over-policing of BIPOC communities, a lack of mobility options for many transit-dependent populations, and a fear of harassment on the streets and on public transit. We stressed how the future of the profession must put equity front and center in order to mitigate harmful impacts of past policies, and prevent future harms.
TRANSPORTATION PROFESSIONALS FROM THE PORTLAND METRO AREA
We also want to share our gratitude for the community of transportation professionals without whose support and involvement the camps could not have been held. Twenty-four professionals from public and private agencies joined us for a "speed networking" event with the students, fielding career questions and learning about students' interests. Seven instructors gave guest lectures or led workshops: Gwen Shaw of Toole Design; Zoie Wesenberg of the office of Congressman Earl Blumenauer; Peter Koonce, Xao Xiong, and Lale Santelices of the Portland Bureau of Transportation; Grace Stainback of Alta Planning; and Inessa Vitko of C-TRAN.
These instructors introduced students to tactical urbanism, elements of street design, features that enhance accessibility, and how transportation budget decisions are made. Inessa Vitko of C-TRAN led a transit equity exercise: students worked through a hypothetical budgeting problem in which they needed to cut spending for a transit service while minimizing impacts on minority groups, low-income individuals, mixed-ability riders, and other protected classes of transit riders. Another guest instructor, Xao Xiong, had this to say:
"Going into it, I was worried it would feel like I was talking to an empty, invisible crowd. But that did not reflect my experience at all. I really appreciated how grounded, engaging, and supportive this learning space was - despite the virtual format. Race and intersectionality is a really uncomfortable topic for anyone, but the TREC staff and camp peer mentors enabled these students to engage in honest and meaningful discussion. The kudo boards afterwards were so special to me, and through that direct feedback and hearing from Nora afterwards - it felt impactful as an instructor and transportation professional to know that these students kept coming back to the topics of inequities in transportation for Black and brown people. The students really grasped the idea of looking at who is burdened by and who benefits from changes to transportation infrastructure and programs. Teaching this camp was a highlight of my summer." - Xao Xiong, Portland Bureau of Transportation, 2020 Guest Instructor
LOOKING FORWARD TO SUMMER 2021
As 2020 has shown us, we can never be certain about what the future will bring, but we're hoping we'll be able to return to our traditional, in-person residential camps next year. If you're interested in being notified when 2021 applications open up, sign up here and we will email you as soon as dates are set.
These camps were hosted by the Transportation Research and Education Center (TREC) at Portland State University, and funded by the United States Department of Transportation Federal Highway Administration.
The Transportation Research and Education Center (TREC) at Portland State University is home to the National Institute for Transportation and Communities (NITC), the Initiative for Bicycle and Pedestrian Innovation (IBPI), and other transportation programs. TREC produces research and tools for transportation decision makers, develops K-12 curriculum to expand the diversity and capacity of the workforce, and engages students and professionals through education.
Share this: