Portland State University Transportation Student Group Wins ITE Momentum Award
Posted on August 24, 2022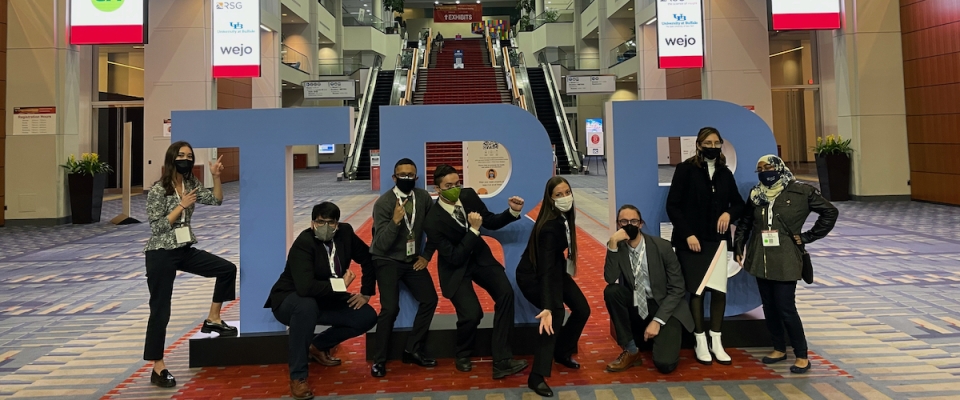 We're proud to announce that the Institute for Transportation Engineers (ITE) has awarded Portland State University's ITE Student Chapter, Students in Transportation Engineering and Planning (ITE-STEP), the 2022 Student Chapter Momentum Award. The award recognizes the student group for an outstanding year of accomplishments.
This year's ITE-STEP leadership made big strides in activating and energizing the student chapter. They hit the ground running after being elected, to prepare for Transportation Research Board (TRB) scholarship applications, through which they leveraged UTC funding from the National Institute for Transportation and Communities to send ten PSU students to attend the TRB annual meeting in Washington, D.C. 
"The award shows the dedication and commitment that the ITE-STEP board provided. Despite having full-time academic schedules, internships and jobs, and COVID-19 issues, the board stayed committed to holding frequent online and in person events," said Nick Meusch, vice president of events for the group. 
Students also partnered with PSU's Transportation Research and Education Center (TREC) in hosting a Transportation Equity Book Club over the Fall and Winter terms, in which they read Bicycle/Race: Transportation, Culture, & Resistance by Adonia Lugo and discussed how to address the author's call to action for environmental justice in active transportation.
The 2021-22 STEP student leaders were Cameron Bennett (President), Asif Haque (VP of Finance & Conferences ), Nick Meusch (VP of Events), and Christian Galiza (VP of Communications). Cameron and Christian are civil engineering students while Asif and Nick are in the urban planning program, reflecting ITE-STEP's commitment to engaging transportation professionals across disciplines.
"I'm proud that we got more planners involved in ITE-STEP and ITE. I think having a board split between planning and engineering programs really helped with this," Nick said.
The current ITE-STEP leadership board took steps to ensure the group will continue to thrive from one graduating class to another, and has built a collaborative operations manual for the club in order to streamline transitions to future leadership and allow for the accumulation of knowledge and best practice. Cameron and Christian are continuing on the board into the new academic year, alongside new members Owen Christofferson and Megan Lee.
The Institute of Transportation Engineers (ITE) annual awards program seeks to honor outstanding achievements in transportation and distinguished service. These awards bestow international recognition upon the recipients and increase the public's awareness of the roles and responsibilities of transportation professionals and the impacts their work has on the communities they serve.
Portland State University's Transportation Research and Education Center (TREC) is home to the U.S. DOT funded National Institute for Transportation and Communities (NITC), the Initiative for Bicycle and Pedestrian Innovation (IBPI), PORTAL, BikePed Portal and other transportation grants and programs. We produce impactful research and tools for transportation decision makers, expand the diversity and capacity of the workforce, and engage students and professionals through education and participation in research.
Share this: