Introducing the 2021 - 2022 STEP Leadership Board
Posted on November 17, 2021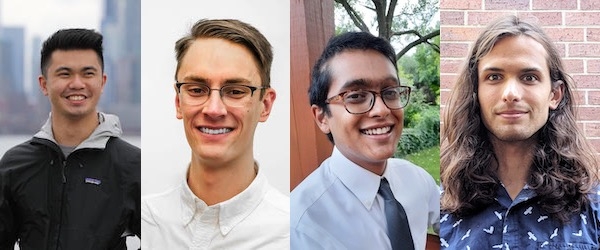 Studying transportation, or even just curious about it as a career? We encourage currently enrolled Portland State University students to join the on-campus Students in Transportation Engineering & Planning (ITE-STEP) group!
STEP engages PSU students in transportation issues through field trips, speakers, projects, and social events. The group works to build relationships and a shared understanding between transportation students from different disciplines, both within PSU and with other universities. Within STEP, students can also take on leadership roles in cultivating community and education around the transportation issues important to them. STEP is also home to PSU's ITE student chapter, to help students stay connected to the local professional organization Oregon ITE (Institute of Engineers).
Join the STEP mailing list through which STEP leadership and transportation faculty send out announcements on transportation scholarships, jobs, internships, and events.
Introducing the 2021 - 2022 STEP Leadership Board
A warm welcome to the new leadership board for STEP:
President - Cameron Bennett (MS Civil Engineering)
VP of Finance & Conferences - Asif Haque (MURP)
VP of Events - Nick Meusch (MURP)
VP of Communications - Christian Galiza (BS Civil Engineering)
Cameron Bennett (President)
Asif Haque (VP of Finance and Conferences)
Nick Meusch (VP of Events)
2021 American Public Transportation Foundation (APTF) scholarship recipient
. They currently work as a proposal manager for Elcon Associates, a minority-owned, electrical and systems engineering firm that performs consulting services for transit agencies operating rail transit systems (including TriMet and the Portland Streetcar). As the Events leader in ITE-STEP, Nick looks forward to broadening students' professional connections in order to provide a more equitable transportation workforce as well as attracting students in supportive fields such as electrical engineering to participate in the world of transportation.
Christian Galiza (VP of Communications)
The Transportation Research and Education Center (TREC) at Portland State University is home to the National Institute for Transportation and Communities (NITC), the Initiative for Bicycle and Pedestrian Innovation (IBPI), and other transportation programs. TREC produces research and tools for transportation decision makers, develops K-12 curriculum to expand the diversity and capacity of the workforce, and engages students and professionals through education.
Share this: