PSU Transportation Students Envision "Living Streets," Car-Free Corridors for Downtown Portland
Posted on March 30, 2023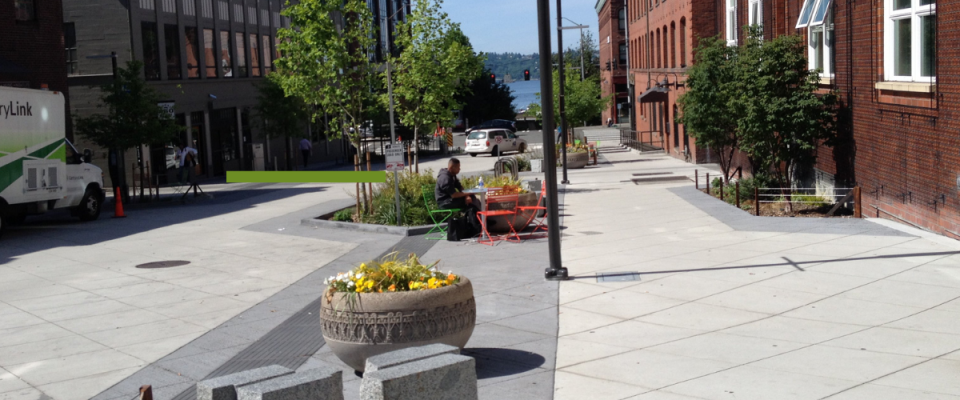 In the 1970's, Portland had a dream: to create a "pleasurable human environment" by giving space to people rather than cars. Several car-free areas were identified in the city's ambitious 1972 Downtown Plan, approved by city council at the time.
Four Portland State University (PSU) students took that dream a little further this year. In the Fall 2022 term, Cameron Bennett, Owen Christofferson, Emily D'Antonio and Aidan Simpson created a Downtown Portland Living Streets Plan centered around a new street typology for Portland: Living Streets.
Like the public plazas common in cities outside the US, living streets are defined by slow speeds and shared space. But unlike European old towns, Dutch Woonerfs or Barcelona's Superblocks, Living Streets were designed specifically with Portland in mind. Bennett describes them as "a pedestrian-focused equivalent to the neighborhood greenways in Portland: Not explicitly car-free, but kind of implicitly. It's a street where through the design it's shown that it's a space for pedestrians first and cars second: a street where people can feel comfortable lingering, mingling, and enjoying being in public space."
The class was Active Transportation Planning and Design Studio, an urban studies & planning course taught by PSU instructors Derek Abe and Kirk Paulsen. As part of the course, students create plans for real-world clients. The client for this group was Cathy Tuttle, an urban planning consultant & community organizer of BikeLoud PDX. Learn more about her connection to the project in this 2022 PSU Transportation Seminar: Why Your City Needs a Car Master Plan.
WHAT'S IN THE DOWNTOWN PORTLAND LIVING STREETS PLAN
"It wasn't just one type of street that we imagined. We realized that there are different types of living streets for different use cases, and different places in downtown Portland," Christofferson said.
The plan suggests that PBOT adopt a new street typology with explicit guidelines to reduce vehicle volumes, amplify crossing opportunities, and design for accessibility, safety, and vibrancy rather than for throughput. A standardized toolkit for Living Streets could streamline the planning and design process for new pedestrianized spaces throughout the city, reducing the barriers to wholesale street design changes.
The students first referred to the 1972 plan with an eye toward updating and modernizing it, doing a corridor-level analysis rather than an area-level analysis. Based on this work, their Portland Downtown Living Streets Plan is an effort to create a network of pedestrian-oriented streets within the downtown core. The plan identifies twelve "opportunity areas" and provides specific design elements for four of them: Old Town, the Burnside Wedge, the Extended Halprin Sequence (a continuation of the original Halprin Sequence, a series of fountains and parks connected by pedestrian pathways), and the Transit Mall.
Starting with an overview of existing conditions for each of the four areas, the students propose designs for facilities to improve access. These include plaza activation through public art, street furniture and food trucks; moveable bollards to define access areas at different times; shortened pedestrian crossings; the replacement of automobile travel lanes with alternative uses of curb space; and other features. See the full plan for details.
A GOOD TIME TO EMBRACE A NEW STREET
"There's a lot of conversation about revitalizing downtown, and that means different things to different people. Some discussions are on houselessness, some are on transportation, some are discussions around economic vitality. I think that a vision like this promotes a lot of those goals. This is a way to revitalize downtown. That, you know, is well proven. These sorts of car-free streets are not a new concept. I think this is potentially really powerful, specifically in Portland," Bennett said.
Group member Owen Christofferson concurs that the time is ripe for a reimagining of downtown. "We're at this very interesting point in the pandemic; Portland's downtown has struggled a lot recently, and is in need of some out-of-the-box thinking. There's the potential for a real blank-slate reimagining of what downtown could be, in the wake of this massive global event that has really changed a lot of the ways cities interact with their own downtowns. It's good timing for innovative thinking in that part of the city," Christofferson said.
Known for its "Let Knowledge Serve the City" motto, Portland State University places great emphasis on students learning by doing. The benefits of this educational model are easy to see on the students' side; they gain professional experience that can lead to career opportunities. On the clients' side however, there are significant gains as well. By doing this downtown plan as a class project, the students were unconstrained by permits or regulations, and were free to dream big. 
"One major constraint of the course is the short, 10-week time span that students have to complete their planning projects. That leaves very little time for a meaningful real-world community and stakeholder engagement process, so we ask the students to present us with a strategy for advancing those efforts, framing it as guidance for their community partners. In this way, they are creating the road map for their community partners and clients to advance this work beyond the end of the term," Abe said. 
"Not having as much community input, you can really imagine whatever you want. It makes projects like this more fun, because you can reach out to [professionals] and they're willing to talk with you. They're ready to try and give you inspiration and work with you," D'Antonio said. 
Having been conceived in this environment of creative freedom doesn't mean that there's no chance of any part of the plan eventually being implemented. Sure, "the plan as a whole probably won't get adopted," D'Antonio said, but "there are pieces of it that, if it gets into the right hands of the right stakeholders, that it does give them a framework and some ideas to get inspired to reuse the spaces they already have."
As PSU alumni move into the professional community, their influence can continue to build on itself. Even the course instructors are both PSU graduates: Abe earned a master's of urban and regional planning from the Toulan School of Urban Studies & Planning before going on to work as a planning associate at Alta Planning + Design, and Paulsen earned his master's of science in civil engineering from the Maseeh College of Engineering & Computer Science before working as an engineer at Alta and now as a senior engineer at Parametrix. The instructors bring their own experience as students and knowledge of the local professional community to their efforts at teaching the next generation.
Portland State University's Transportation Research and Education Center (TREC) is home to the U.S. DOT funded National Institute for Transportation and Communities (NITC), the Initiative for Bicycle and Pedestrian Innovation (IBPI), PORTAL, BikePed Portal and other transportation grants and programs. We produce impactful research and tools for transportation decision makers, expand the diversity and capacity of the workforce, and engage students and professionals through education and participation in research.
Share this: