Celebrating Three New PSU Transportation Scholars
Posted on February 16, 2022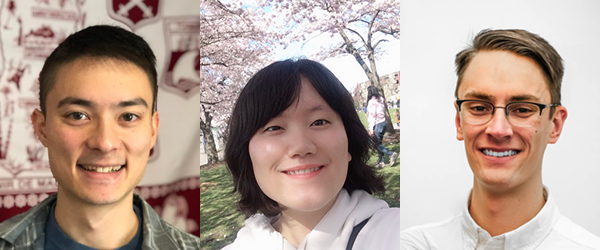 We are proud to recognize three new transportation scholarship recipients at Portland State University for the 2021/22 academic year. Congratulations to Cameron Bennett, Kyuri Kim, and Trevor Luu!
With an emphasis on learning by doing, PSU students work on real transportation system projects with partners in our community. Through scholarships, we can support students in overcoming barriers to funding as well as acknowledging those who go above and beyond in advancing transportation. Applications are currently open for next year's transportation scholarships. Apply by March 2. 
Funding for our TREC scholarships come from a variety of key partners. Several of those scholarships are specifically earmarked from our Initiative for Bicycle and Pedestrian Innovation (IBPI) program. Learn more about funding opportunities at PSU.
Cameron Bennett, Master of Science in Civil Engineering
Recipient of the Walter H. Kramer Fellowship
Connect with Cameron on LinkedIn.
Kyuri Kim, PhD in Urban Studies
Recipient of the IBPI Excellence in Active Transportation Scholarship
Trevor Luu, Master in Urban and Regional Planning
Recipient of the IBPI Active Transportation w/ Alta Planning + Design Scholarship
Connect with Trevor on LinkedIn.
---
The Transportation Research and Education Center (TREC) at Portland State University is home to the National Institute for Transportation and Communities (NITC), the Initiative for Bicycle and Pedestrian Innovation (IBPI), and other transportation programs. TREC produces research and tools for transportation decision makers, develops K-12 curriculum to expand the diversity and capacity of the workforce, and engages students and professionals through education.
Share this: