Associate Director Hau Hagedorn Receives CUTC-ARTBA Award for Administrative Leadership
Posted on December 16, 2020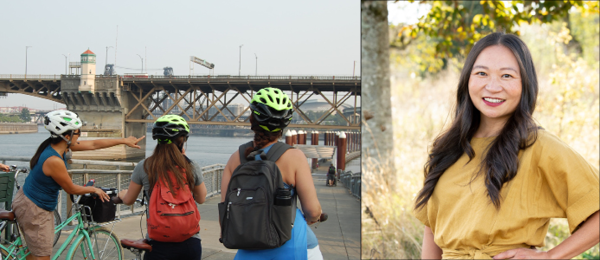 Hau Hagedorn, the associate director of Portland State University's Transportation Research and Education Center and the National Institute for Transportation and Communities, has been selected by the Council of University Transportation Centers (CUTC) and the American Road & Transportation Builders Association (ARTBA) to win the 2020 CUTC-ARTBA Award for Administrative Leadership.
Hau is responsible for the day-to-day management, operations and overall direction of TREC and NITC's peer-reviewed research and technology transfer programs. She also oversees programming and delivery of professional development workshops through the Initiative for Bicycle and Pedestrian Innovation program at PSU. An active participant in national efforts on conducting and implementing research, she serves as co-Chair of both the TRB Conduct of Research Committee and the TRB Research, Innovation and Implementation Management Committee. Hau is also heavily involved at the state-level as the current Chair of the Oregon Bicycle and Pedestrian Advisory Committee, and is a member of the Region 1 Area Commission on Transportation. On the local level, she is also a member of TriMet's Crash Advisory Committee and the City of Portland's Pricing Options for Equitable Mobility Committee.
This award honors individuals who have made outstanding administrative leadership contributions to promote transportation research, technology transfer, and education/workforce development activities. Hau's contributions as the associate director of TREC, including management of the U.S. DOT funded national university transportation center NITC and its predecessor OTREC, along with her demonstrated leadership and service, show her unwavering commitment and passion to contribute to our transportation community.
The award will be presented at the 2021 virtual CUTC Awards Banquet on Wednesday, January 6, 2021. Check out Portland State University's guide to TRB 2021 to see what other PSU-related activities will be happening at TRB next month. The Transportation Research and Education Center (TREC) at Portland State University is home to the National Institute for Transportation and Communities (NITC), the Initiative for Bicycle and Pedestrian Innovation (IBPI), and other transportation programs. TREC produces research and tools for transportation decision makers, develops K-12 curriculum to expand the diversity and capacity of the workforce, and engages students and professionals through education.
Share this: