Highlighting Portland State University Transportation Research at TRB 2021 Next Month
Posted on December 16, 2020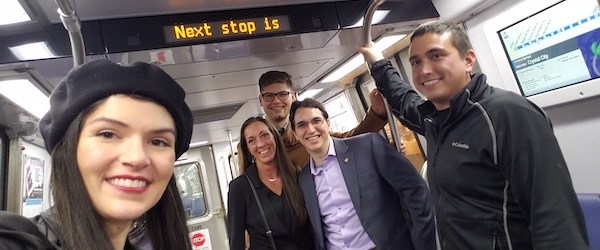 The 100th annual meeting of the Transportation Research Board (TRB) is coming up next month. Normally held in Washington, D.C., this year's meeting will be virtual and will take place from January 5–29. Transportation Research and Education Center (TREC) researchers will have strong representation in the online conference: 23 Portland State University faculty, staff and students are presenting their expertise at TRB 2021!
A Few Session Highlights To Watch For:
Monday, Jan 25, 11:30 AM - 1:00 PM, Driver Yielding and Pedestrian Performance at Midblock Crossings on Three-lane Roadways with Rectangular Rapid Flashing Beacons  – PSU engineering graduate student Frank Appiah (read an interview with Frank) will present alongside PSU researchers Sirisha Kothuri and Christopher Monsere. Learn more about the recent work completed on behalf of the Oregon DOT.
Tuesday, Jan 26, 10:00 - 11:30 AM,  Making Micromobility Equitable for All  – John MacArthur of TREC will present in lectern session 1151 on Equity of Innovative Mobility Services and Technologies. Learn about his ongoing research into equity and new mobility.
Wednesday, Jan 27, 2:30 - 4:00 PM, Estimating Pedestrian Delay at Signalized Intersections Using Finite Mixture Modeling – PSU's Jason Anderson and Sirisha Kothuri will present alongside our NITC program research partners Abolfazl Karimpour and Yao-Jan Wu of the University of Arizona.
Research Focused On Covid-19 And Transportation
The ongoing pandemic impacts our transportation network in important ways, and PSU researchers have not hesitated to tackle this issue:
Monday, Jan 25, 2:30 - 4:00 PM, Household provisioning in response to COVID-19: How are online shopping platforms shifting travel behavior? – Learn more about Eisenhower fellow and PSU engineering masters student Gabriella Abou-Zeid in her recent student spotlight interview.
Tuesday, Jan 26, 2:30 - 4:00 PM, Impact of COVID-19 on Traffic Signal Systems: A Survey of Agency Interventions and Observed Changes in Pedestrian Activity –Sirisha Kothuri of PSU will present alongside lead author and PSU alumnus Patrick Singleton of Utah State University.
Wednesday, Jan 27, 2:30 - 4:00 PM, A Blueprint for the Post-COVID Era: Planning for Health Equity, Advocacy & Leadership (PHEAL) – Learn more about Eisenhower fellow and PSU urban planning PhD candidate Kelly Rodgers in this student spotlight.
Friday, Jan 29, 10:00 - 11:30 AM, The impact of product type on house deliveries: trends and factors affecting COVID-19 lockdown deliveries –Presented by PSU civil engineering faculty Miguel Figliozzi and Avinash Unnikrishnan.
Friday, Jan 29, 10:00 - 11:30 AM, Analysis of Home Deliveries Before, During, and After COVID-19 Outbreak Lockdown – Building upon their other work, Avinash Unnikrishnan and Miguel Figliozzi will also present on this COVID-19 research.
Portland State Students at TRB
PSU students are making a good showing at this year's TRB: Seven students will be presenting their work, and all seven are credited as lead authors. Three Portland State University students, all women, will receive Eisenhower Fellowships presented by the U.S. Department of Transportation at the 2021 virtual annual meeting.
One bright side to the virtual meeting is that it increases access and allows more students to attend than would normally be able to travel to DC: 31 PSU students are attending this year's online conference. Of those, 20 will be attending their first transportation conference ever! The PSU student group STEP (Students in Transportation Engineering and Planning) is committed to helping the first-timers have a great experience.
Council of University Transportation Centers Awards
TREC associate director Hau Hagedorn and PSU masters student Gabby Abou-Zeid will both be honored at the virtual CUTC Awards Banquet on Wednesday, January 6, 2021. Hagedorn will be receiving the CUTC-ARTBA Award for Administrative Leadership, and Abou-Zeid will be awarded the National Institute for Transportation and Communities (NITC) Outstanding Student of the Year.
Online Happy Hour Event with NITC
Stay tuned for the annual TRB social event that we'll be hosting online with our NITC consortium partners, to be announced soon!
The Transportation Research and Education Center (TREC) at Portland State University is home to the National Institute for Transportation and Communities (NITC), the Initiative for Bicycle and Pedestrian Innovation (IBPI), and other transportation programs. TREC produces research and tools for transportation decision makers, develops K-12 curriculum to expand the diversity and capacity of the workforce, and engages students and professionals through education.
Share this: