Just When You Got Used to Sitting in Portland, Oregon Traffic
Posted on April 10, 2020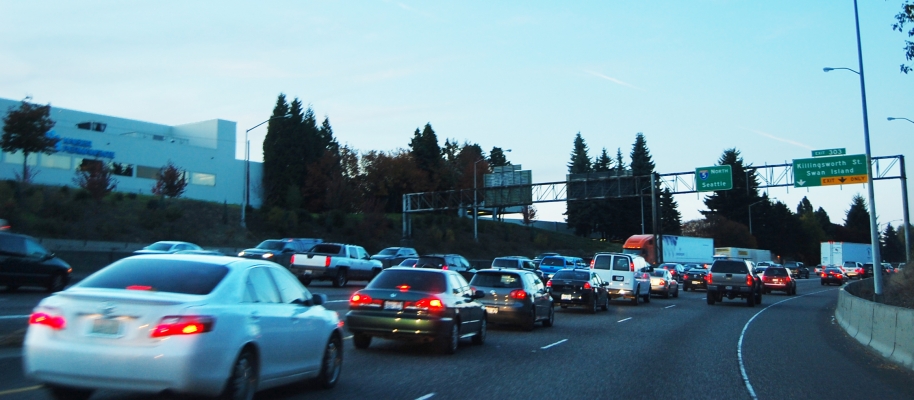 Authored by Tammy Lee, Transportation Data Manager, Portland State University
For a deeper dive into vehicle volume data, attend the May 8 online seminar with Tammy Lee and Kristin Tufte: Creating And Using A Publicly Available Multimodal Transportation Data Archive. At this seminar, the presenters will offer an updated data analysis that reflects the latest vehicles volumes.
Ask most Portland drivers and they'll tell you that traffic has gotten worse over the past 10 years. And data from the Oregon Department of Transportation supports that feeling.  
But for now, temporarily at least, all that is in the past.
The first confirmed case of COVID-19 in Oregon was February 28; a little over a month after the first positive test in the US. Since that week, many have noticed differences in traffic on our streets. An analysis of data from PORTAL - our multi-modal transportation data archive for the Portland-Vancouver metropolitan region - reflects that drop in traffic. 
A number of articles have been published describing the effects of social distancing policies in other cities around the country. For example, The Mercury demonstrated how Bay Area traffic almost vanished after businesses asked employees to work from home in response to COVID-19. INRIX is publishing a weekly series about their observations on transportation-related trends around the country.
So how does Portland compare?
Since Oregon's first confirmed case of COVID-19 was announced, a number of social distancing policies have been ordered: 
DATE

OREGON POLICY ANNOUNCEMENT

Friday, Feb 28

First case of COVID-19

Thursday, Mar 12

Closing all K-12 schools,
Moratorium on gatherings > 250 people

Monday, Mar 16

Ban of public gatherings >25 people

Monday, Mar 23

"Stay-at-home", state park closures
Using publicly available data from PORTAL we looked to see if there were any noticeable trends and changes of daily volume from around the region since these social distancing policies were announced. (No fancy SQL queries needed, just data downloaded directly from the website.) PORTAL is a multimodal transportation data archive for the Portland-Vancouver region, hosted by TREC at Portland State University and supported by public agency partners, including Metro and the Southwest Washington Regional Transportation Council. 
Using the week of February 22, 2020, as a reference week, here's what we've noticed:
(1) We looked at the percent change in average daily volume along I-5 in the Portland metropolitan region (Figure 1), comparing Monday to Monday, Tuesday to Tuesday, etc. The average daily volume declined beginning about a week after the first social distancing policy was announced (Mar 12) those policies were instituted.
Figure 1. Percent change of average daily volume along I-5 NB corridor in the Portland-Vancouver region. The solid orange line (Mar 12) represents the first social distancing measure of closing down public schools. The dotted line (Mar 23) represents the "stay-at-home" policy announcement.
(2) We also took a closer look at the percent change in volume based on vehicle length, because it provides an idea as to what type of vehicles are on the road (Figure 2). The data presented below is from the Marine Dr/99E to NB 1-5 on-ramp, a snapshot of one location along I-5 (unlike the previous figure which represents the daily average volume of the Portland metropolitan I-5 corridor). Passenger vehicles (top panel, 0 - 20 ft) show a consistent decline in volume compared to the reference week since the first social distancing measure. Commercial and long haul vehicles (bottom panels, 35 - 120 ft) showed an increase in volume for the first two weeks after the first social distancing measure before tapering off this past week. Although we don't know for sure what the long term outcomes will be, this suggests the movement of goods has remained steady (no need to hoard the flour or TP).
Figure 2. Percent daily change in volume binned by vehicle length, where the top panel (0 to 20 ft) typically represents passenger vehicles. The next three panels represent a range of commercial vehicles based on length. More information on what types of vehicles are represented in those size classifications can be found here. The solid orange line represents the first social distancing measure (Mar 12), the dotted orange line represents the "stay-at-home" social distancing measure (Mar 23).
We have a lot more data to explore and more weeks of this new travel-constrained world we are living in. We plan on providing more analysis and information regarding trends in transportation within the region. Next up we'll share data on bicycle traffic changes during the pandemic using data from our BikePed Portal. We also know there will be a lot of new and interesting research looking at the effects of COVID-19 throughout the world, both short- and long-term. TREC intends to contribute to that body of knowledge as well as share and support those studies. 
If you're interested in exploring the PORTAL data yourself, visit the website and check out some of the interactive visualization tools for the different archived data sources. We used the Vehicle Length, Highways, and Download pages. If you're unsure how to use the tools, look for the "Tour" button on some of the pages to help you, or visit the documentation website for directions and additional information. For resources and tools for remote teaching during the quarantine period, check out our TREC and COVID-19 resource page.
ABOUT THE AUTHOR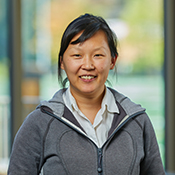 Tammy Lee, Ph.D.
Transportation Data Program Administrator
Tammy is working on a variety of projects for TREC, including documentation, data synthesis, analysis, and visualization supporting ongoing work with PORTAL and Bike-Ped Portal. Prior to joining TREC, she worked as a data scientist for a political digital media consulting firm.
The Transportation Research and Education Center (TREC) at Portland State University is home to the National Institute for Transportation and Communities (NITC), the Initiative for Bicycle and Pedestrian Innovation (IBPI), and other transportation programs. TREC produces research and tools for transportation decision makers, develops K-12 curriculum to expand the diversity and capacity of the workforce, and engages students and professionals through education.
Share this: