PSU Awarded NITC funding for "Exploring the Use of Crowdsourced Data Sources for Pedestrian Count Estimations"
Posted on September 16, 2021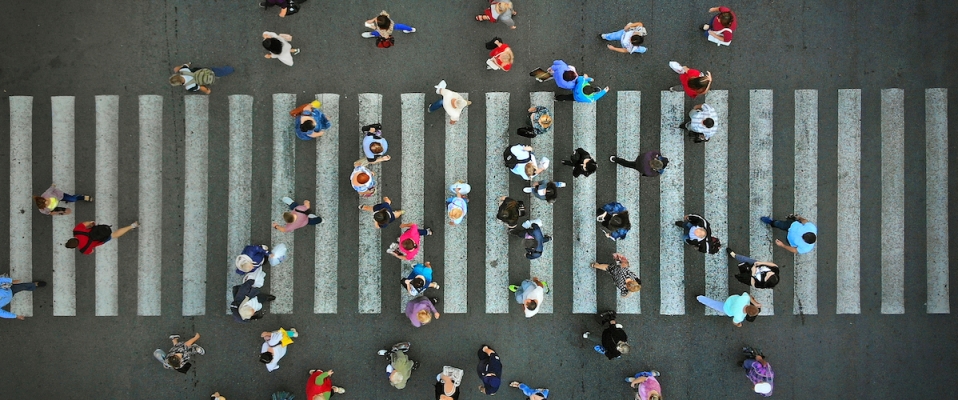 A new study launches next month, funded by the National Institute for Transportation and Communities (NITC). Researchers at Portland State University and the University of Texas at Arlington will explore the use of crowdsourced data to estimate pedestrian counts. The project team consists of Sirisha Kothuri and Nathan McNeil of Portland State University, and Kate Hyun and Stephen Mattingly of the University of Texas at Arlington. 
WHAT ARE PEDESTRIAN COUNTS USED FOR?
"You know that saying that if you can't measure it, you can't change it? For most streets, we might have some intuitive sense of if there are a lot of people walking there or not, but we rarely have data to back it. This project will assess how crowdsourced data can help to establish the level of pedestrian activity on streets throughout the transportation network," McNeil said.
Knowing how many pedestrians or bicyclists are using a link or a network is the foundation for measuring nonmotorized travel. Count data are useful for monitoring trends, planning new infrastructure, and for conducting safety, health, and economic analyses. The lack of widely available pedestrian count data precludes meaningful safety studies, which have become critically important, especially with the nationwide increase in pedestrian crashes over the last decade.
Several automated technologies have been developed to count bicyclists and pedestrians. Many advances in counting technology are more efficient than the old person-with-clipboard method, but cost and other considerations still limit direct observation to small subsets of entire networks. However, the emergence of crowdsourced data such as Strava and StreetLight has allowed for the collection of large-scale datasets over broad areas of the network. 
WHAT WILL BE STUDIED
While several research studies have evaluated and applied bicycle data from these datasets, no study has yet looked at pedestrian count estimates from these data sources or assessed how these compare to traditional pedestrian counts and other measures of pedestrian activity, such as pedestrian actuations from traffic signals. The researchers will evaluate pedestrian data estimates from the crowdsourced data sets and explore how these can be used along with traditional count data and sociodemographic data to derive count estimates.
"The lack of pedestrian counts limits our ability to conduct safety analyses, estimate changes in demand, determine where infrastructure improvements need to be made, and quantify the benefits of walking. We hope that the findings from the study can help agencies estimate pedestrian counts on their network and use them for a variety of applications," Kothuri said.
This project is one seven new research efforts funded by the latest General Research grant from NITC. Read about the other six projects here.
ABOUT THE PROJECT
Photo by Dmytro Varavin/iStock
The Transportation Research and Education Center (TREC) at Portland State University is home to the National Institute for Transportation and Communities (NITC), the Initiative for Bicycle and Pedestrian Innovation (IBPI), and other transportation programs. TREC produces research and tools for transportation decision makers, develops K-12 curriculum to expand the diversity and capacity of the workforce, and engages students and professionals through education.
Share this: