Highlighting Portland State University Transportation Research at TRB 2022
Posted on December 14, 2021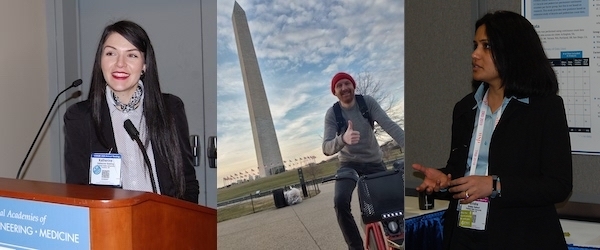 The 101st annual meeting of the Transportation Research Board (TRB) is coming up January 9 - 13, 2022, and has returned to an in-person gathering in Washington, D.C. This year's theme at TRB is Innovating an Equitable, Resilient, Sustainable, and Safe Transportation System, and Portland State University (PSU) researchers and students are well qualified to share their work on that topic!
*Due to the evolving status of speaker attendance and TRB programming, please refer to your TRB schedule for the most current information in the event of changes.*
Innovating an Equitable Transportation System…
Exploring the Costs of Addressing Equity in the Transition to Cashless Fare Collection
Aaron Golub and John MacArthur are leading a poster session (#1418) on Jan 12th (10:30 AM - 12 PM). Read more about this study in NextCity's deep dive article: What Happens When Cash Fares Are Eliminated? 
Pedestrian Injuries by Social Equity Factors in Oregon: Measuring Statewide Pedestrian Injury Disparity Using Common Data
Nathan McNeil of TREC and and Joshua Roll of the Oregon Department of Transportation (ODOT) will share results from ODOT's statewide analysis "Understanding Pedestrian Injuries and Social Equity" in a lectern session Jan 12 (1353) as well as a workshop (1431) on Jan 13. They presented an overview of the findings in an online seminar in October 2021; watch the recording to learn more.
Innovating a Resilient Transportation System…
Transportation System Resiliency and Disaster Response and Recovery: A Review on U.S. Metropolitan Long-range Transportation Plans
Master of Urban and Regional Planning (MURP) student Jai Daniels and TREC's John MacArthur will share national practices around transportation system resiliency and disaster recovery in a poster session (1152) on Monday Jan 10. Learn about TREC's ongoing resilient transportation infrastructure research, and get to know more about Jai in a March 2021 Student Spotlight interview.
"It's Complicated": Exploring the Relationship Status of In-store and Online Grocery Shopping During the COVID-19 Pandemic
Civil and Environmental Engineering professor Kelly Clifton and civil engineering grad student Max Nonnamaker, along with Gabriella Abou-Zeid of ICF, PSU alum Kristina Currans of the University of Arizona, and Amanda Howell of the University of Oregon will explore the future of our urban freight system under the increasing demands of pandemic-era online shopping, in a poster session (1374) on Jan 12. Read about related research led by Clifton on Consumer Responses to Household Provisioning During COVID-19 Crisis and Recovery.
Innovating a Sustainable Transportation System…
Modeling Optimal Drone Courier Fleet Size and Sustainability Tradeoffs
Miguel Figliozzi will share a model exploring the use of drones for last mile delivery along with Yuval Hadas of Bar Ilan University in a lectern session (1406) on Jan 12. For additional context, watch a 2018 presentation by Figliozzi on related research into the sustainability of drone deliveries.
Transit and Active Transportation Use for Non-commute Travel among Portland TOD Residents
Nathan McNeil and TREC director Jennifer Dill, in a poster session (1232) on Jan 11, will share survey-based insights on the travel behavior of transit-oriented development (TOD) residents. Learn more about that research: What Do 15 Years of Travel Surveys Tell Us About TOD Residents?
Innovating a Safe Transportation System…
Systemic Opportunities to Improve Older Pedestrian Safety: Merging Crash Data Analysis and a Stakeholder Workshop
In a lectern session (1162) on Jan 10, Jason Anderson, Sirisha Kothuri, and Christopher Monsere of civil engineering, with David Hurwitz of Oregon State University, will present a framework for improving older pedestrian safety, using Oregon as a case study. Along with other TREC researchers, Anderson, Kothuri and Monsere have conducted a wide variety of active transportation safety research; check out some of those projects here.
Evaluation of Posted Speed Limits Reductions on Urban Roads with a High Percentage of Cyclists
In the same session, Miguel Figliozzi, Jaclyn Schaefer and Avinash Unnikrishnan of civil engineering will present a before and after analysis of the impact of posted speed limit changes on passenger car speeds in Portland, OR. Read about related research on the impact of bicycle traffic on car travel speeds, and ​​the effects of reducing posted speed limits to 20 mph.
And so much more!
PSU researchers and students are bringing a lot of transportation expertise to TRB, including drone delivery, bicyclist comprehension of infrastructure, urban freight, and so much more! Check out our online guide to PSU at TRB 2022 for the full schedule.
Portland State Students at TRB
PSU students are bringing it to this year's TRB: 14 students are attending, coordinated by the student group, STEP - Students in Transportation Engineering and Planning and funded by our National Institute for Transportation and Communities program. Five PSU students will be presenting their work in poster and lectern sessions, and STEP president Cameron Bennet will receive an Eisenhower Fellowship presented by the U.S. Department of Transportation.
At the CUTC Awards Ceremony, to be held virtually on January 8, PSU PhD candidate Kelly Rodgers will be awarded the National Institute for Transportation and Communities (NITC) Outstanding Student of the Year.
National Institute of Transportation and Communities
We partner with five universities on a U.S. DOT funded research consortium. Our collective expertise on the mobility of people and goods is showcased in our online guide to NITC at TRB 2022, featuring 138 researchers from among NITC partner universities University of Oregon, Oregon Institute of Technology, University of Utah, University of Arizona and University of Texas at Arlington, in addition to PSU.
Photos by Cait McCusker
The Transportation Research and Education Center (TREC) at Portland State University is home to the National Institute for Transportation and Communities (NITC), the Initiative for Bicycle and Pedestrian Innovation (IBPI), and other transportation programs. TREC produces research and tools for transportation decision makers, develops K-12 curriculum to expand the diversity and capacity of the workforce, and engages students and professionals through education.
Share this: