Portland's Transportation Wallet Increases Access to New Mobility Services
Posted on March 16, 2021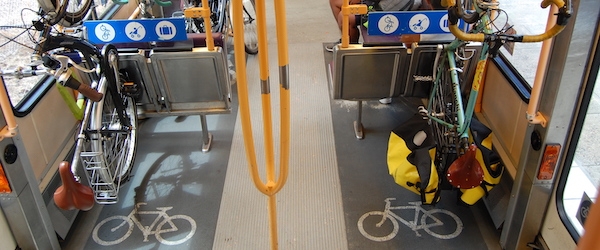 In June 2019, the City of Portland Bureau of Transportation (PBOT) launched a new incentive package aimed at making transportation more accessible for low-income households. In the "Transportation Wallet for Residents of Affordable Housing" pilot program, people living in affordable housing developments received access to free transportation options like transit passes, bike or scooter share memberships, rideshare and carshare credits.
Portland State University researchers evaluated the pilot program to find out how participants used the Transportation Wallet and how it helped them use different transport modes to get around.
A February 2021 paper in Transportation Research Record by Huijun Tan, Nathan McNeil, John MacArthur and Kelly Rodgers presents insights into the implementation and effectiveness of a transportation financial incentive program for low-income populations. Access the paper: "Evaluation of a Transportation Incentive Program for Affordable Housing Residents."
Main findings include:
The financial support of this program encouraged some participants to use new mobility services (including Uber/Lyft, bike share, and e-scooter) that they had never used before.
The program increased access for participants, helping them make more trips and, for some, get to places they otherwise could not have gone.
Transportation fairs, where participants could learn about services and talk to providers, promoted both mode sign-up and mode usage, particularly for new mobility services and a reduced fare transit program.
The article is part of a larger research effort underway, funded by the National Institute for Transportation & Communities, Metro, and PBOT: "New Mobility For All: Can Targeted Information And Incentives Help Underserved Communities Realize The Potential Of Emerging Mobility Options?" This project explores underserved communities' access to new mobility programs such as ride-hailing, car-sharing, and micromobility. Researchers surveyed participants of PBOT's Transportation Wallet pilot, as well as a program of Oregon Metro designed to provide personalized transportation planning services (trip planning, education, outreach) in combination with free ride or drive credits from ride-hail and car share services to help connect residents to travel opportunities. An update on the project will be given in an upcoming Friday Transportation Seminar:
Friday, April 16, 2021: Friday Transportation Seminar: Evaluation of a Transportation Incentive Program for Affordable Housing Residents. 
In the seminar, Huiun Tan, Nathan McNeil and John MacArthur of PSU along with Roshin Kurian of PBOT will share findings from their survey of participants in PBOT's pilot program, and draw connections to how a transportation demand management program like the Wallet could be implemented to provide incentives and financial benefits to low-income populations.
ABOUT THE RESEARCH
The Transportation Research and Education Center (TREC) at Portland State University is home to the National Institute for Transportation and Communities (NITC), the Initiative for Bicycle and Pedestrian Innovation (IBPI), and other transportation programs. TREC produces research and tools for transportation decision makers, develops K-12 curriculum to expand the diversity and capacity of the workforce, and engages students and professionals through education.
Share this: