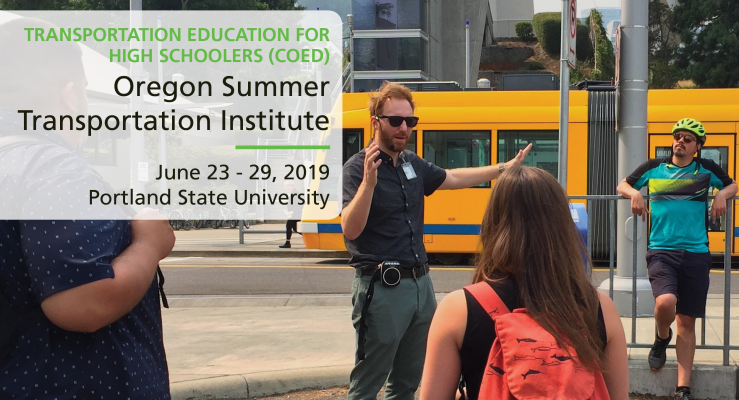 DATE:
Sunday, June 23, 2019, 12:00pm PDT

to

Saturday, June 29, 2019, 2:00pm PDT
SPEAKERS:
PSU Faculty, ODOT, FHWA, Portland Bureau of Transportation, TriMet, and others!
COST:
FREE! (Capacity is limited, application required)
LOCATION:
Portland State University
OVERVIEW
This one-week, coed residence camp offers any student entering the 9–12 grade an immersive introduction to the workings of the Portland transportation system.
Half of each day is spent in the classroom hearing from PSU faculty and guest lecturers from ODOT, the FHWA, the Portland Bureau of Transportation, TriMet, the Port of Portland, and various other public and private transportation agencies that operate in the Portland metro area.
The other half is spent outside, in field tours of Portland's transportation infrastructure and public spaces. Planners, engineers and designers come from all over the country to see Portland's unique transportation system in action, and researchers use it as a testing ground for the most innovative solutions in safety, sustainability and livable efficiency. 
Students will work in groups to solve a real-world transportation problem and use the skills they have gained to present a solution at the end of the camp.
LEARNING OBJECTIVES
Introduce you to professionals in transportation
Learn about the broad range of transportation careers and sectors
Understand the social justice and equity issues within transportation and how it relates to you, your family and your neighborhood
Introduce you to transportation systems in Portland and become familiarized with Portland State University's Campus.
WHO IS ELIGIBLE
Oregon resident, entering 9th - 12th grade (2019-2020 school year), 2.0 GPA
BE A RESIDENTIAL COUNSELOR
Residential Counselors provide supervision for campers and ensure their safety and well-being. Interested? Check out the job posting (PDF).
 

CAMP HOSTS

Michael Espinoza, TREC Events and Office Coordinator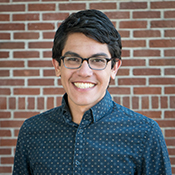 Michael is the Events and Office Coordinator for TREC, overseeing logistics for events and balancing the books. He graduated from Boston University with a B.A. in Environmental Analysis and Policy and spent several years as an Environmental Educator in both Milwaukee, Wisconsin and Portland, Oregon. Michael speaks three languages, has a passion for public transit and loves biking to work every day.
Lisa Patterson, TREC Technology Transfer and Workforce Development Program Manager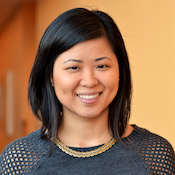 Lisa enjoys working with researchers, students, faculty and practitioners to create a transportation community and network that connects our research with practice and fosters the development of current and future transportation professionals. She graduated from PSU with a masters in Civil Engineering and worked in the transportation and construction management industry for 7 years before returning to PSU to work at TREC. Her passion for professional development and student success also shows through her board involvement on WTS and ITE, transportation professional organizations and Minds Matter Portland, an after school program for accomplished high school students from low income families. In the evenings and weekends, you'll find her chasing after her three kids (two dogs and a toddler), playing volleyball, running, taking random art classes or trying new local restaurants.
FREQUENTLY ASKED QUESTIONS
Are accommodations provided for the students?
Yes, this is a residential camp. Once students arrive at Portland State University (PSU) they will be assigned a dorm room on campus that they will share with one other student from the transportation camp. Each room has two single beds and one shower that you will share with your roommate.
If you need reasonable accommodations for a disability or other special needs, let us know in the appropriate section when filling out your application.
How many students will be attending this camp?
Approximately 20 - 24 high school students will be attending.
What supervision will there be?
There will be four counselors (2 female, 2 male) that stay in the dorms with you through the duration of the camp. In addition to the instructors throughout the day, TREC's Events and Office Coordinator Michael Espinoza will be with the students every day from 9 AM - 5 PM.
What food will be provided for the students?
All meals (breakfast, lunch, and dinner) will be provided free of cost.
When do the days start and end?
Breakfast is provided in the dorms prior to the day starting. We start the day at 9 AM and end between 4-5 PM. In the evenings we have some recreational activities planned (rec center, movie nights, etc.).
For the field tours, will transportation be provided?
All transportation is provided, and we will mainly be taking public transit and walking as a group.
Will we be biking at any point?
We will take the students on one bike ride along the Willamette Waterfront and all bike rentals (with a helmet) will be provided free of cost.
Can you provide a certificate of completion for this camp?
Yes! We're happy to provide a certificate.
PROGRAM FUNDER

Offered through the Transportation Research and Education Center (TREC), this camp is funded by the Oregon Department of Transportation.
TREC at Portland State University is home to the National Institute for Transportation and Communities (NITC), the Initiative for Bicycle and Pedestrian Innovation (IBPI), and other transportation programs. TREC produces research and tools for transportation decision makers, develops K-12 curriculum to expand the diversity and capacity of the workforce, and engages students and young professionals through education.