2019 Ann Niles Lecture with Angie Schmitt
Posted on October 23, 2019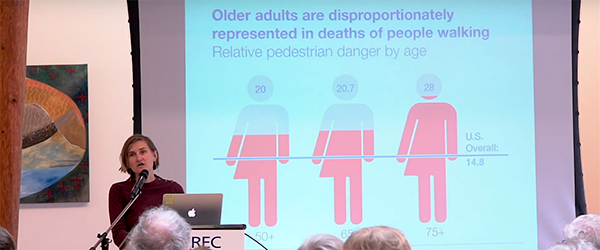 Over 120 active transportation professionals, researchers, students, and community members joined us October 15 on the Portland State University campus to hear journalist Angie Schmitt speak on the Pedestrian Safety Crisis. Miss the lecture, or want to share it with someone?
Angie may no longer be writing for StreetsBlog USA, but you can still follow her on Twitter or her freelance journalism for The Atlantic. She recently published her first Atlantic article on "Inequality is Slowing Cities to a Crawl".
Until next year! If you can't wait that long, you can always join us at our weekly Friday Transportation Seminars.
Ann Niles Lecture Series
The Ann Niles Active Transportation Lecture is a unique opportunity to bring world-class thinkers on pedestrian and bicycle issues to Portland State University (PSU) and the active transportation community in the Portland metro region. The annual lecture serves as a legacy to Ann Niles who was a strong advocate for livable neighborhoods, safer pedestrian and bicycle infrastructure, and served on many transportation-focused boards and committees in Portland. The forum furthers the mission of our Initative for Bicycle and Pedestrian Innovation (IBPI) program to facilitate the exchange of knowledge among scholars, practitioners and community advocates around issues of active transportation. By promoting dialogue across disciplines and interests, this lecture series supports PSU's mission to "let knowledge serve the city."
Share this: