European research group visits OTREC on 2013 US tour
Posted on July 26, 2013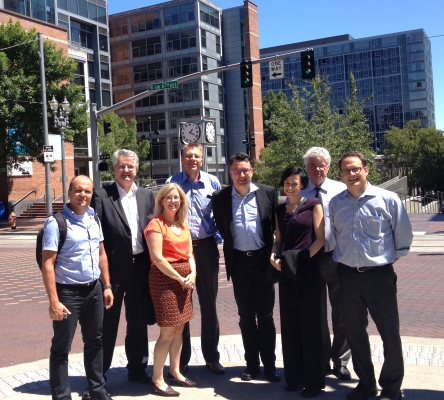 OTREC had visitors on Wednesday, July 24.
A delegation of six ECTRI directors from Austria, the Czech Republic, Germany, Norway, and Finland are finishing up a "Scanning Tour" of the United States, and OTREC was the third stop on their four-stop tour.
The European Conference of Transport Research Institutes, or ECTRI, is an international non-profit organization. Its members are 26 major transport research institutes or universities from 19 European countries, and its mission is to help build the "European Research Area" (ERA) in transport.
The 2013 Scanning Tour's theme is "Transport and Liveability: Sustainabiity of urban areas." Assisted by the Transportation Research Board, ECTRI made four stops in the USA: Washington, D.C., to participate in the TRB conference; Cambridge and Boston, Mass. for a visit to Volpe and to MIT's freight lab; Portland, Ore., to talk with Jennifer Dill and John MacArthur about OTREC's sustainable transportation program; and finally Davis, Calif., to visit the Institute of Transportation Studies at UC Davis.
Wednesday's visit was brief and pleasant. OTREC staff gave the delegation a presentation about the work that OTREC does and its sustainable cities initiative, followed by questions and discussion.
Alexandra Millonig is with the Dynamic Transportation Systems team at the Mobility Department of the Austrian Institute of Technology. Her research areas include mobility behavior patterns and determinants, human factors in mobility, and human orientation and navigation.
Karel Pospíšil is the Director of CDV Transport Research Centre and professor at the University of Pardubice, where his subjects include highway transport systems and non-destructive diagnostics and research of materials and structures.
Martin Pípa is the Director of Transport Development Division within CDV, the Transport Research Centre. He actively participates in projects related to financing transport development, public transport information systems, and traffic flow management in bottlenecks and generally in smart work zone concepts.
Uwe Clausen is, jointly, Managing Director of the Institute of Transport Logistics at TU Dortmund University and Director of the Fraunhofer-Institute for Material Flow and Logistics in Dortmund. His research areas include commercial traffic modeling, intermodal transportation, and green logistics.
Kjell Werner Johansen is Deputy Managing Director, Research Director and head of the Department for Economics and Logistics at the Institute of Transport Economics, Oslo, Norway. He has worked with a number of applied research projects, including modeling transport networks, economic evaluation of transport and land-use strategies, and methodologies for cost-benefit analysis in the transport sector.
Heikki Kanner works at VTT Technical Research Centre of Finland as a technology manager in Transport and Logistics Systems. He has carried out several statistical studies in the road safety field, and has been engaged in international, national, and local models for passenger and freight transport in Finland.
Share this: