Modeling series gives tools for better policy, understanding of decisions
Posted on June 11, 2012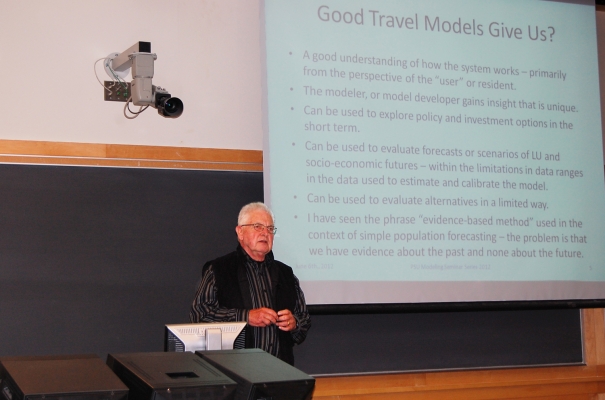 With transportation models increasingly used to inform policy decisions at all levels, OTREC is pleased to offer a free educational series designed to help decision makers, transportation officials and others understand these important tools. The series was organized with OTREC's Oregon Modeling Collaborative and presented during the weekly transportation seminars at Portland State University's Center for Transportation Studies.
Archived video of the entire eight-week series is now available. Each seminar lasts one hour. Click here for a description of each seminar and links to the video.
While the Friday seminar series has showcased transportation issues for years, the modeling series marks the first time that eight seminars focused on a single theme. Modeling is a timely topic, as policy makers come to rely increasingly on models, whether or not they have a background in modeling.
The series demonstrates how modeling can support better decision-making and explains the tools and the process to a nontechnical audience, said Kelly Clifton, director of the Oregon Modeling Collaborative. Oregon's discussions regarding modeling tools have helped inform the national discussion, she said.
The final seminar in the series recapped some of the earlier lessons and pointed out some of the challenges for the future of modeling. No single model will meet everyone's needs, Clifton said.
"There's more than one tool," she said. "We'll need more flexible models that are quick to run lots of scenarios."
Click here to learn more.
Share this: