Oregon Summer Transportation Institute: An Immersive STEM Experience for High School Girls
Posted on August 2, 2018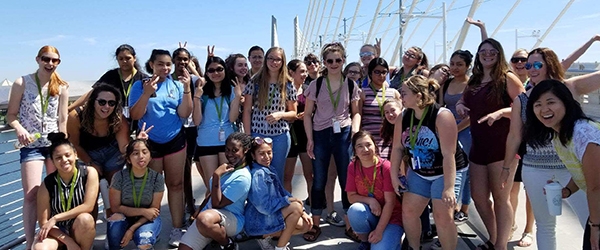 For the third year in a row, it was our pleasure to host the Oregon Summer Transportation Institute (OSTI) at Portland State University (PSU), a free two-week residential camp open to high school girls. This past July, our camp,  introduced twenty-three Oregonians to the transportation profession. The end goal? Our hope is to build an awareness in young women of transportation careers and inspire them to pursue areas of STEM study not traditionally open to them.
Made possible with support from the Oregon Department of Transportation (ODOT), this free camp was led by Lisa Patterson, the Technology Transfer and Workforce Development Program Manager for PSU's Transportation Research and Education Center (TREC). The camp featured guest lectures by local professional women from ODOT, PSU, TREC, the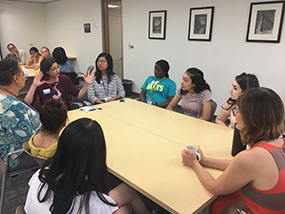 Portland Bureau of Transportation (PBOT), , TriMet, moovel, Roosevelt High School, eBay, Multnomah County, Toole Design Group, Alta Planning + Design, DKS Associates, Jarrett Walker + Associates, and Nelson\Nygaard. See photos from this year's camp.
Students worked in groups on their "two week projects" to analyze and propose solutions for five intersections identified for improvement in Portland's "Central City in Motion" plan.
In addition to lab and field work in developing a solution to a transportation challenge on the proposed "Central City in Motion", lectures on transportation engineering and planning included:
Geography, Placemaking & Planning: A GIS Tutorial
Social Equity and Environmental Justice in Transportation
Tactical Urbanism
Transit Technology Systems and Implementation
Bicycle and Pedestrian Planning and Design
Transportation in the Gorge: a National Scenic Area
Community Engagement
And more!
The girls learned some practical skills outside the classroom: The PSU Bike Hub set them up with some basic bike-fixing knowledge so they'd never be stranded, and a ladies-only self-defense workshop provided tools and techniques to help them feel more confident on public transit.
The camp also included cultural activities in Portland. Some highlights were:
A "Know Your City" tour to explore Portland's scenes of social justice, art, and history; 
A tour of TriMet's transit operations center, where they got to take turns driving the bus simulator;
A ride on the historic Oregon Pacific Railroad passenger train to Oaks Amusement Park;
A trip inside the USS Blueback, OMSI's resident submarine;
A high-speed Jet Boat tour on the Willamette River.
They also got to pose their transportation career questions to the PBOT pros at a speed-networking event, spent an afternoon wandering the towers and piers of the Willamette River bridges, and visited the Portland Art Museum to admire "The Shape of Speed." 
On Friday, July 20, the students gave presentations to a group of their friends, family, instructors and volunteers from the camp. They presented the results of their two-week project they had worked on, which included existing conditions analysis, plans for community engagement and outreach, goals and key outcomes, and proposed recommendations. 
We hope to offer this opportunity again next year. If you'd like to be notified once we have information for 2019, fill out this brief interest form. If you'd like to notified when we publish our full, final report on OSTI 2018, please contact Lisa Patterson at l.patterson@pdx.edu.
Share this: