OTREC welcomes new research and education program administrator
Posted on July 22, 2013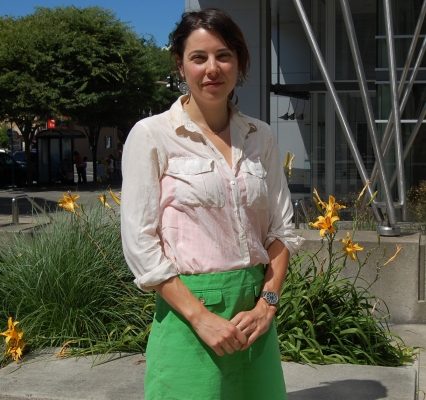 OTREC extends a warm welcome to our newest staff member, Susan Peithman. Susan started work July 22 as OTREC's new Research and Education Program Administrator, who will serve to help allocate research funds to various transportation projects.
Peithman has lived in Portland, Oregon for six years and loves the city. She grew up in the Midwest, and says that Portland is a different world from Kansas City, Kansas, where she spent her education and early career.
She obtain her Bachelor's degree in Chemistry from the University of Illinois at Chicago, and afterward worked for the City of Chicago in the area of bicycle and pedestrian transportation.
Bicycling has been her primary means of transportation for 13 years, and she is always glad to see research that improves bicycle safety and infrastructure.
During her time at Alta, Peithman became familiar with OTREC and its research priorities, and says that she is pleased to be part of an organization that sponsors some of the best transportation research in the area. Alta Planning & Design occasionally partners on projects with OTREC in, as Susan put it, "one big collaborative world" of transportation research in the Pacific Northwest.
Susan's primary area of focus is on programs encouraging women and girls to use bicycle transportation. In her free time she likes to race bicycles, both on-and-off road, in what is sometimes a spectacularly muddy and exhilarating time.
Share this: