Portland State students join effort to make Salem sustainable
Posted on December 2, 2010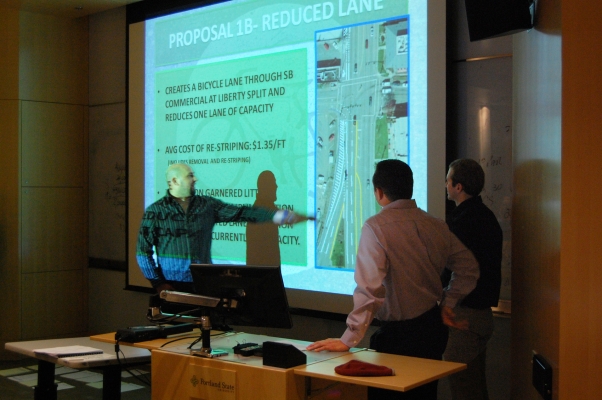 Portland State University transportation engineering students added their expertise to a yearlong effort to help Salem reinvent itself. The Urban Transportation Systems class looked at options to improve bicycle and pedestrian travel in the city's downtown core.
The effort is part of the Sustainable Cities Initiative, one of three OTREC-funded initiatives. The initiative, led by co-directors Marc Schlossberg and Nico Larco at the University of Oregon, chooses one Oregon city per year to make its classroom, directing coursework to help the city adopt sustainable practices.
This year is the first to include Portland State University's participation. Students in assistant Professor Chris Monsere's Civil Engineering 454 class gave presentations Nov. 29 and Dec. 1 on several alternatives to improve bicycle and pedestrian transportation and safety. Projects included:
Accommodating the bicycle and pedestrian crossing on Union Street at Commercial Street while considering impacts to automobile traffic
Connecting cyclists and pedestrians at the end of the Union Street path at Wallace Road
A bicycle and pedestrian route west of Wallace Road
Converting selected one-way streets to two-way operation
Traffic analysis of options drafted by bicycle advocates for the intersection of Commercial and Liberty streets at Vista Avenue
Bicycle lanes on Commercial Street
Students traveled to Salem and studied regional travel demand models to understand current conditions. They then developed alternatives for each site, selecting a preferred alternative. The work will now be coordinated with other Sustainable Cities Initiative efforts with the city of Salem.
The Sustainable Cities Initiative grew out of an effort to connect related work at the University of Oregon on sustainable transportation, livability, and urban design into something that provided a more robust research agenda and educational experience, provide better service to Oregon communities and more directly inform sustainable transportation policymaking. Salem is the second city to receive the Sustainable Cities focus, following Gresham last year.
Share this: