Seatbelt safety advertisement wins Portland State team national honors
Posted on February 10, 2011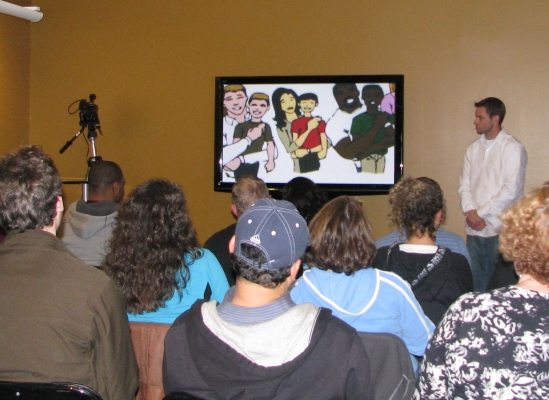 To students in Don Dickinson's Advertising Campaigns class, seat belt straps look a little like the hug of a protective parent. That central image helped the class win a National Highway Traffic Safety Administration's student advertising competition geared toward reducing traffic injuries to preteens and young teenagers.
"They did all the research and brainstorming, and then it just sort of happened," said Dickinson, director of advertising management in Portland State University's School of Business. "There was a spot in England, called 'Embrace Life,' that was quite an inspiration and reference point for the rest of the class." In that advertisement, mother and daughter link arms to restrain a man from a simulated slow-motion crash.
The Portland State students created an ad around the slogan "Did you hug your tween today?" They shopped the concept around to parents at soccer games and recruited 25 parents of tweens to participate in a focus group.
Using technology developed by Portland company Dialsmith, members of the focus group recorded their impressions of the advertisement in real time. Watching simplified mockups called animatics, the focus-group participants turned a dial to express their degree of satisfaction or dissatisfaction.
"We focus-grouped the 'Embrace Life' spot to get a baseline," Dickinson said. "Then we showed them our drawings and soundtrack," he said, "and ours scored better than the produced spot." It also marked the first time the Dialsmith technology, popular with television networks and advertising agencies, was used at the collegiate competition level.
The focus group reaction held at the national level as well. The Portland State spot rose to the top of a field of six select schools, including University of New Mexico, San Diego State, University of Massachusetts, University of Illinois Chicago and Texas A&M. The class flew to Washington, D.C. in December to present their product to NHTSA.
Students got a lesson in more than advertising, Dickinson said. They also learned the extent of the dangers our transportation system poses to human lives, especially when safety systems aren't followed to the letter.
"They were all surprised how at-risk the population of 8- to 12-year-olds is," Dickinson said. "The child is changing before your eyes, making it so important to keep them in the right seat and restrained correctly."
Share this: