Speaker details work to count bicyclists and pedestrians without conflating them
Posted on October 29, 2012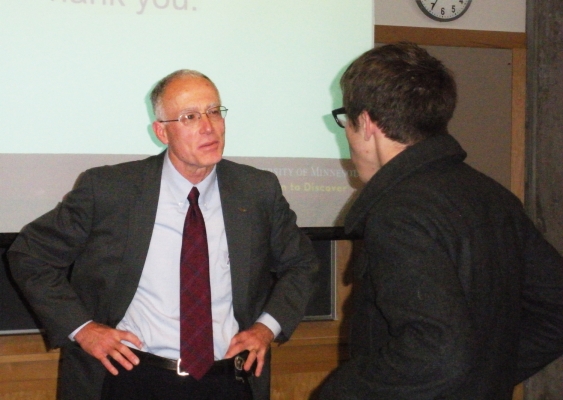 This fall, the Friday transportation seminar series at Portland State University has focused on data collection and how information is used to make transportation investments. The Oct. 26 seminar, with the University of Minnesota's Greg Lindsey, covered tracking and modeling travel behavior.
Engineers and planners alike have relied on traffic counts for their traffic models, but data behind bike and pedestrian travel has been fuzzy. Now, researchers such as Lindsey are offering new methods for conducting bike and pedestrian counts on trails and multiuse paths.
With little guidance from the Federal Highway Administration, Lindsey said, most of the efforts in creating best practices have bubbled up from communities like the Twin Cities, chosen as Nonmotorized Transportation Pilot Cities. Lindsey and his researchers monitored six trails in Minneapolis, using inductive loops and infrared beams.
To address calibration problems and offer validity to their field numbers, Lindsey also sent students into the field to verify counts. The technology allowed for finer-grained detail, especially over a 24-hour period. OTREC Director Jennifer Dill noted, "Too much in the past we've lumped "bike and peds" together and your work and analysis is demonstrating that they truly are different modes, with different behaviors."
Lindsey stressed the importance of conducting this type of research, and measuring our "bicycle miles traveled" and "pedestrian miles traveled" in addition to vehicle miles traveled. With tightening budgets and federal funding for trails languishing, decision makers are requiring hard data that investments in multiuse paths are worthwhile. Additionally, he said, the data needs to be shared with planners who can make targeted investments in safety improvements and commute connections. 
"The goal is to work with states and regions to institutionalize bike and pedestrian data," Lindsey said.  "While they may not have the resources to be the primary collector of counts, they can help by working with institutions who collect data, and make it available to local communities for planning purposes."
The transportation seminar series is sponsored by OTREC and the Center for Transportation Studies. Seminars are held in Room 204 of the Urban Center on the Portland State University Campus.
Click here for information on upcoming seminars. You can add the OTREC calendar to your Google Calendar by clicking here.
Share this: