Summer Transportation Institute begins today
Posted on July 11, 2016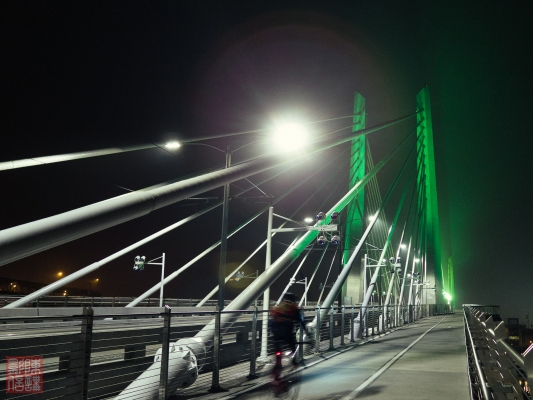 This summer, Portland State University hosts the 2016 Summer Transportation Institute Program for high school girls in a free two-week day camp, weekdays July 11-22.
This unique program, sponsored by the Civil Rights Division of the Federal Highway Administration and administered through Portland State's Transportation Research and Education Center (TREC), is designed to introduce underrepresented population to careers and educational paths towards the study of transportation. Read Bike Portland's coverage of the Institute here.
What does all this mean?
A group of 22 diverse high school girls have been selected to participate in a program that not only teaches them about transportation careers, but gives them hands-on experience working with experts in the field, including leaders from the Portland Bureau of Transportation, the Oregon Department of Transportation, the Port of Portland and TriMet. In addition, women from private-sector transportation consulting such as Alta Planning, Kittleson & Associates, and Cambridge Systematics are involved with instructing the girls.
Grade distribution
9th graders: 4
10th graders: 9
11th graders: 7
12th graders: 2
Schools represented
Century High School (2)
Cleveland High School (3)
De la Salle North Catholic High School (3)
Grant High School
Jesuit High School
Kelso High School
Lake Oswego High School (2)
Oregon Episcopal School (2)
Parkrose High School
Riverdale High School
St. Mary's Academy (2)
Valley Catholic High School
Vancouver iTech Preparatory High School (2)
Racial/ethnic identification (self-identified in application materials)
African/African American (3)
Caucasian (9)
Chicano/Latino (3)
Asian/Pacific Islander (3)
Other, not of Hispanic origin (1)
Other Hispanic (2)
The program is being taught by musician and educator Sarah Dougher, who spent last year living in Oslo, Norway as a Fulbright Roving Scholar.
The strong ideas about livability in Portland transportation are also reflected in our Institute.
Bike and pedestrian researchers, as well as instructors from the civic involvement group Know Your City and OPAL Environmental Justice will be engaging with the girls as they learn.
Portland provides a living laboratory for the students to experience and study multiple modes of transportation in the field. The city is unique in the United States for its breadth of high quality transportation facilities such as the light rail, streetcar and bicycle and pedestrian network.
Portland State University is well known for its transportation focus in both the urban planning and engineering schools.
Please contact us if you would like more information, or would like to sit in or come along on one of the field trips.
Sarah Dougher, Program Director
sed@pdx.edu or 503-715-6731
Share this: