TREC researcher Chris Monsere named to Portland's Vision Zero Task Force
Posted on August 25, 2015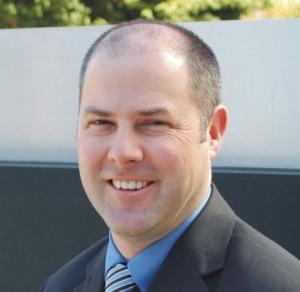 Christopher Monsere, a civil and environmental engineering professor at Portland State University whose research focuses on multimodal safety, has been selected to be a member of Portland, Oregon's new Vision Zero Task Force.
Vision Zero is a multi-national safety project which aims to eliminate fatalities and serious injuries on the roads.
The Portland Bureau of Transportation, in an effort to make Portland's transportation system the safest possible, is taking steps to move toward zero traffic-related fatalities in the next 10 years.
To connect this work with a wider community effort, Mayor Charlie Hales kicked off the Vision Zero Task Force with a gathering last Monday, August 17, at the intersection of 82nd Avenue and Division—two of Portland's most lethal corridors.
The Task Force is a multi-disciplinary and multi-jurisdictional group of members with a clear mandate: to work together and create a community-wide action plan with real solutions. Its members were chosen by Hales and Transportation Commissioner Steve Novick based on their qualifications and commitment.
Monsere will serve in an advisory capacity and investigate solutions as a TREC researcher. His expertise in the area of multimodal safety makes him uniquely qualified to offer operational and logistical insights.
Other members of the Task Force have a wide range of roles and viewpoints, coming from backgrounds in freight, transit, law enforcement, public health and transportation advocacy, to name a few.
The task force will meet quarterly to develop concrete goals and recommendations to carry them out. Its final draft of a vision zero plan is scheduled to be presented in the fall of 2016.
For more information on the forming of the Task Force and the partners involved, check out the coverage on KATU and KGW news, and articles in BikePortland and the Portland Tribune.
TREC is proud of Monsere's being named as a member; the selection recognizes the quality and rigor of his research. We are also proud of him for stepping up to answer the call of the community and take action to protect vulnerable road users.
Share this: