Equity in Bike Share Research
TREC researchers have established Portland State University as a center for understanding how to make bike share more equitable. Through a variety of projects supported by the Better Bike Share Partnership (BBSP) and the National Institute for Transportation and Communities (NITC), the team has produced reports, articles and presentations that tell the story of who is using bike share, how to engage underserved communities, and what cities are doing to make bike share better serve those communities.
National Scan of Bike Share Equity Programs (2019)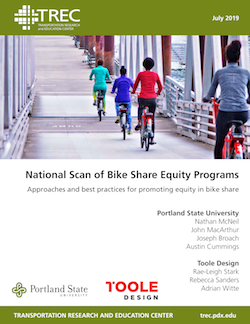 Connecting with cities and bike share operators from across the United States, we conducted a nationwide scan on what programs and initiatives were running to address equity in bike share. Our report "National Scan of Bike Share Equity Programs" documents responses from over 70 bike share systems. This resource will help cities and operators navigate the range of actions that have been implemented to make bike share systems more equitable, examine successful strategies employed across the U.S., and understand how those successes (and challenges) are being measured and articulated. In doing so, we hope the report helps bike share systems learn from the experiences of others, innovate, and more quickly move toward greater equity.
Have you used this research in your work? In this five-minute survey on the National Scan of Bike Share Equity Programs, we'd appreciate your sincere feedback on what content was helpful, and what you wish we had done better. We'll take your feedback and use it to improve our future bike share research and products. 
-----
Breaking Barriers to Bike Share (2017)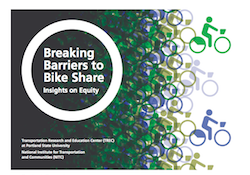 From 2015 to 2017, PSU examined bike share systems in Philadelphia, Chicago, and Brooklyn, New York, to understand what current barriers and potential motivators exist to getting lower-income residents and people of color using bike share. This research focused on underserved communities that already had bike share stations and equity programs in place, and surveyed bike share operators, current users, and potential users. For the key findings, check out:
-----
Breaking Barriers to Bike Share: Part I - Resident Survey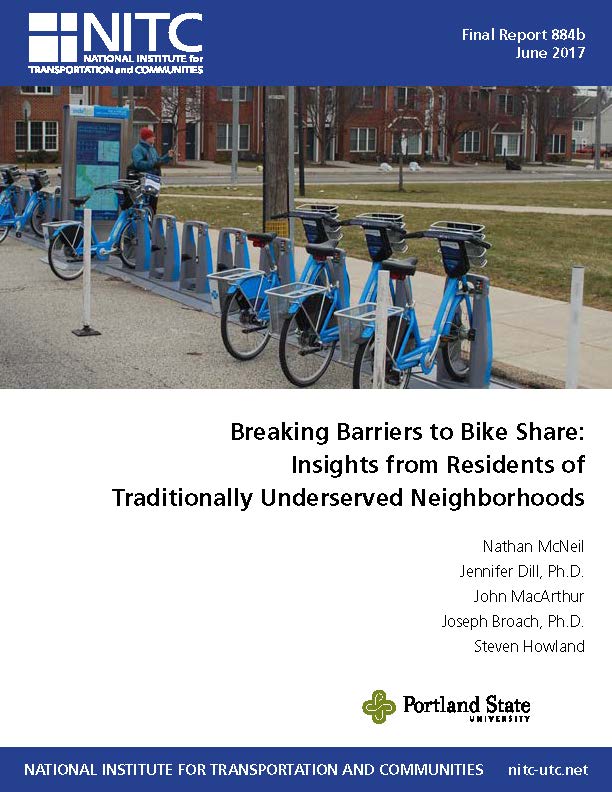 We surveyed residents living in areas targeted by BBSP efforts in three focus cities (Philadelphia, Chicago, and Brooklyn, New York) to understand how people living in low-income neighborhoods and communities of color view bicycling and bike share. We received 1,885 total responses (10.5% response rate). Four demographic categories formed the basis of our equity-focused analysis: Lower-income people of color, higher-income people of color, lower-income white, and higher-income white, with the last category representing the more typical current bike share users in U.S. cities. We also considered gender, age, and geographic differences in our analysis. The "Breaking Barriers to Bike Share: Insights from Residents of Traditionally Underserved Neighborhoods" (PDF) report provides insight into the barriers and potential motivators for people who are not bike share users in cities with bike share systems.
-----
Breaking Barriers to Bike Share: Part II - User Survey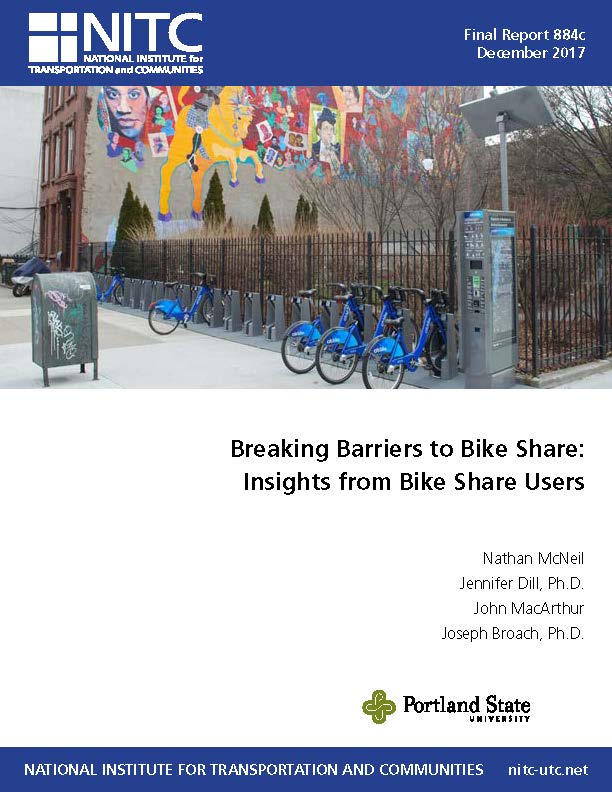 A survey was conducted of bike share members and other people who had received information or discounts through BBSP efforts to better understand how low-income people and people of color are using bike share, why they chose to use it, and what benefits it provides. Working with the bike share operators in Philadelphia, Chicago and Brooklyn, surveys were emailed to current or past bike share members in the BBSP outreach areas. Members who received targeted outreach (such as joining an organized ride or taking a class) or certain equity focused discounts were also invited to take the survey. The "Breaking Barriers to Bike Share: Insights from Bike Share Users" (PDF) report examines how the bike share users targeted by equity programs are using the system, including how frequently, for what purposes, and what value it brings them.
-----
Breaking Barriers to Bike Share: Part III - Operator Survey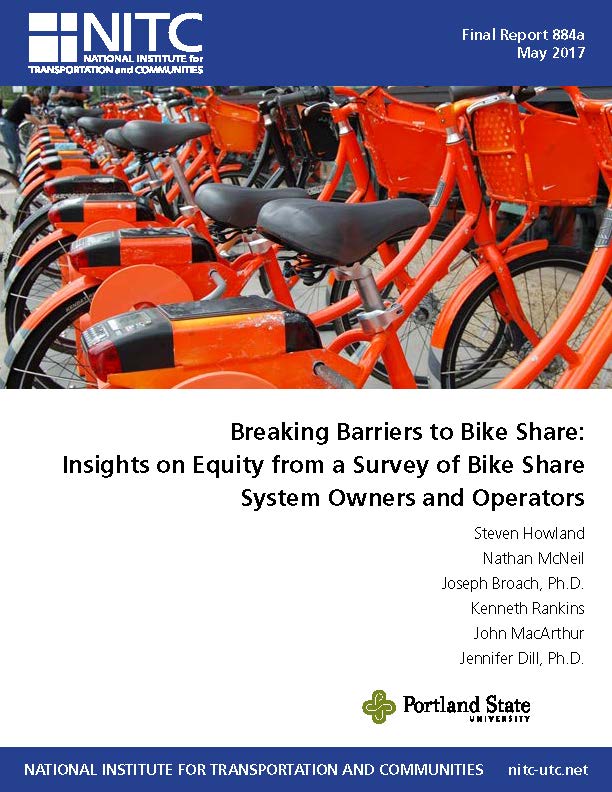 For the final phase, we surveyed bike share system owners and operators to understand and document current approaches toward serving low-income and minority populations. We asked about equity policies and metrics, the degree to which equity considerations affected system practices, what operators saw as key existing barriers for target populations, and organizational challenges to addressing those barriers. The research team invited representatives from 75 active and planned bike share systems (with at least 40 bikes) to take the survey, and received responses from 56 systems. Findings from this survey are documented in the report "Breaking Barriers to Bike Share: Insights on Equity from a Survey of Bike Share System Owners and Operators." (PDF)
-----
The People Behind the Research
PSU researchers working on these projects include:
PSU students working on these projects include:
Additional gratitude to those who designed the Breaking Barriers to Bike Share Briefs:
Cait McCusker, TREC Communications Director
Jared Islas, 2019 TURF Fellow at TREC