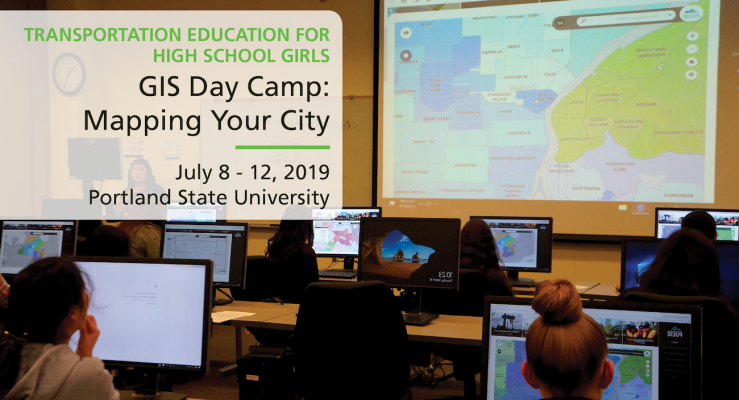 DATE:
Monday, July 8, 2019, 10:00am PDT

to

Friday, July 12, 2019, 4:00pm PDT
SPEAKERS:
Sachi Arakawa, Institute of Metropolitan Studies; Christina Friedle, Portland Community College
COST:
FREE! (Capacity is limited, application required)
LOCATION:
Portland State University
OVERVIEW
Maps have been used for centuries to help humans understand our world. In contemporary times, we use a mapping technology known as "GIS", which stands for Geographic Information Science. GIS is rooted in the science of geography, and uses many of the same skills of ancient map makers, now enhanced by the use of state of the art digital technology and software. Join us at this one week day camp for high school girls to become familiar with GIS by creating and interpreting maps and doing spatial analysis, using data from the City of Portland to visualize some compelling urban transportation issues.
The day camp, held in the Intelligent Transportation Systems (ITS) lab of PSU's Engineering Building, consists of lectures, instruction sessions, field work, and applied activity all related to GIS and transportation issues. The class will have a special focus on transportation equity and accessibility for all. Students will be introduced to fundamental topics around transportation such as safety, infrastructure, accessibility, and equity. They will also learn geographic concepts such as latitude and longitude, scale, and map elements, as well as the basics of ArcGIS — importing data, exploring spatial databases, and visualizing data in different ways through map design. Students will get to make their own print and interactive web maps using data from their city and neighborhoods.
The camp also includes a field trip where students will collect data, and get a real world look at how the transportation issues we learn about in class play out on the ground. By the end of the week students will have a working understanding of GIS, mapping, and transportation issues, and new ideas for how they can apply them to their city!


APPLY FOR THIS CAMP (Rolling admissions until full)
LEARNING OBJECTIVES
Learn basic geographic and geospatial concepts related to Geographic Information Science, including

Latitude and longitude
Scale
Map symbology
Introduction to the mapping software known as ArcGIS Online

Use these concepts to create maps that explain and visualize urban transportation issues
Discuss and analyze real issues in the contemporary world
Come out of the class with a working understanding of what GIS is, and how it can be used to understand and visualize data
WHO IS ELIGIBLE
Oregon resident, rising 9th - 12th grade (2019-2020), 2.0 GPA, female or female-identified students.
INSTRUCTORS + CAMP HOSTS
Sachi Arakawa, Community Geography, Institute of Metropolitan Studies, Portland State University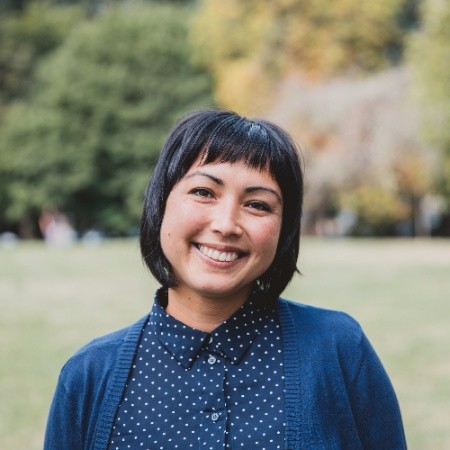 Sachi's background is in Geography and GIS and she has been making maps for a living for the last four years. She just finished her master's degree in Urban Planning at Portland State University, where she learned about the importance of equity in transportation planning. Sachi loves to nerd out about maps and can't wait to share some of her favorite maps with the class!
Christina Friedle, Portland Community College GIS Program Director & Department Chair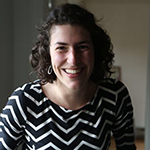 Christina is a geographer with an interest and background in cultural geography, GIS, and geographic education. She is a strong believer in the power of observation and feels the best way to get to 'know' a place is talk to the people, walk the streets, eat the food, visit the places of worship, and generally immerse yourself in the culture. Christina runs the GIS certification program at Portland Community College, where her courses have an emphasis on hands-on application, community service, observation and fieldwork.
GUEST SPEAKERS
Maria Sipin, People for Mobility Justice; Belen Herrera, Seattle Dept of Transportation; Madeleine Steele, TriMet; Zoie Westenberg, Portland State University.
FREQUENTLY ASKED QUESTIONS
Are accommodations provided for the students?
This is a day camp. Students will need to arrange transportation to and from camp at PSU each day. Please reach out if you need travel assistance.
If you need reasonable accommodations for a disability or other special needs, let us know in the appropriate section when filling out your application.
How many students will be attending this camp?
Up to 15–20 high school girls will be attending.
What supervision will there be?
There will be 2 instructors and staff with the students each day.
What food will be provided for the students?
Lunch will be provided free of cost.
When do the days start and end?
We start the day at 10 AM and end between 4-5 PM.
For the field tours, will transportation be provided?
All transportation is provided, and we will mainly be taking public transit and walking as a group.
Will we be biking at any point?
No, we will not be biking during this event.
Can you provide a certificate of completion for this camp?
Yes! We're happy to provide a certificate.
PROGRAM FUNDER
This camp is funded by the National Institute for Transportation and Communities (NITC), with additional support from ChickTech.

The National Institute for Transportation and Communities (NITC), one of five U.S. Department of Transportation national university transportation centers, is a program of the Transportation Research and Education Center (TREC) at Portland State University. The NITC program is a Portland State-led partnership with the University of Oregon, Oregon Institute of Technology, University of Utah and new partners University of Arizona and University of Texas at Arlington. We pursue our theme — improving mobility of people and goods to build strong communities — through research, education and technology transfer.
 The Transportation Research and Education Center (TREC) at Portland State University is home to the National Institute for Transportation and Communities (NITC), the Initiative for Bicycle and Pedestrian Innovation (IBPI), and other transportation programs. TREC produces research and tools for transportation decision makers, develops K-12 curriculum to expand the diversity and capacity of the workforce, and engages students and professionals through education.