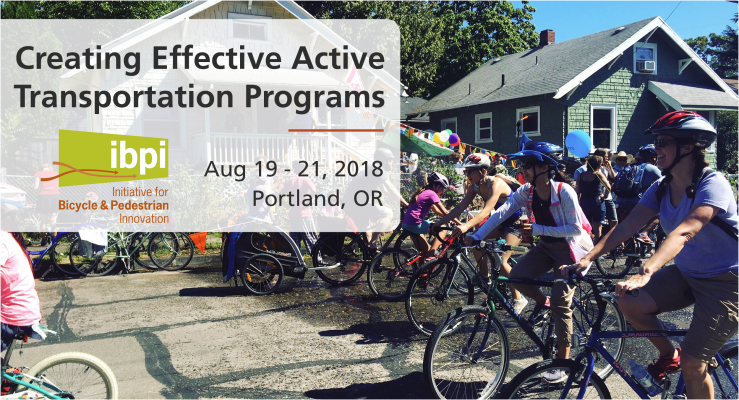 Event Date:
Sunday, August 19, 2018, 8:00am PDT

to

Tuesday, August 21, 2018, 4:30pm PDT
Location:
Portland State University
This summer we're hosting three workshops through our program, the Initiative for Bicycle and Pedestrian Innovation (IBPI). Learn more: Integrating Bike-Ped Topics into University Transportation Courses (June 19 - 20) and Comprehensive Bikeway Design (Aug 13 - 17)
COURSE OVERVIEW
This three-day workshop offers strategies for building and strengthening communities around walking and bicycling. The primary focus will be to learn and experience firsthand the design of various active transportation programs to support increased biking and walking. The first day will focus on the behind-the-scenes effort that it takes to organize Portland's Sunday Parkways, the city's premiere Open Streets initiative. The subsequent days will delve into other transportation demand management and transportation options programs that play a key role in helping more people to bike, walk, and use transit.
This course offers insights and strategies to make the case for policymakers, inspire communities, and build a movement toward healthier, more active cities. 
INSTRUCTORS
Jessica Roberts, Principal, Alta Planning + Design
Hau Hagedorn, Associate Director, Transportation Research and Education Center (TREC) at Portland State University
Dana Dickman, Traffic Safety Section Manager & Safe Routes Manager, Portland Bureau of Transportation
WHO SHOULD ATTEND
Urban planners, community advocates, policymakers, municipal staff and other transportation professionals interested in nurturing walking and cycling in their communities.
REGISTRATION
CLICK HERE TO REGISTER - The fee for this professional development course is $525. The fee includes light breakfast, lunch, course materials and standard bike rental. Electric-assist bicycles can be rented separately through the Bike Hub for an extra fee.
SCHOLARSHIP
APPLY FOR A SCHOLARSHIP (DUE APRIL 6th) - We offer a limited number of scholarships for this course - applications are due by Friday, April 6, and selected recipients will be notified on April 13. Scholarships will cover the cost of registration, and will be disbursed after successful completion of the course. Participants will be responsible for arranging their own travel and accommodation.
CONTINUING EDUCATION CREDITS
Professional development hours for this course will be approximately 19.5 CMs or PDHs. IBPI applies to the AICP for Certification Maintenance credit for each course. We will provide an attendance certificate to those who document their professional development hours.
ACCOMMODATIONS
If you need a place to stay during the workshop, we can recommend some nearby hotels: Check out our guide to visiting Portland.
Photo Credit: "Sunday Parkways" by Aaron Brown