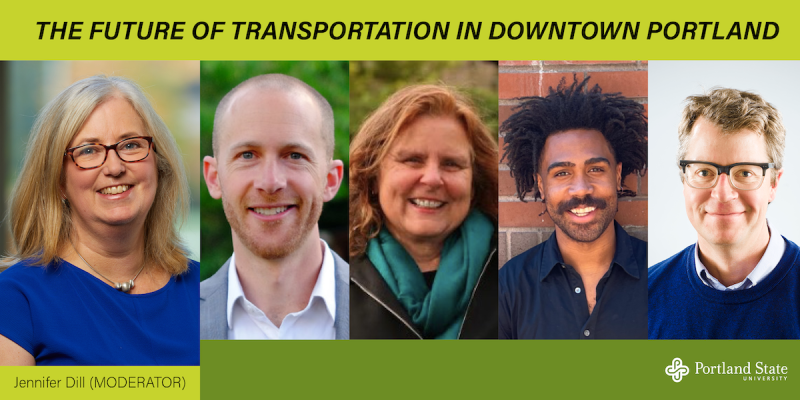 DATE:
Monday, October 24, 2022,

4:00pm

to

5:30pm

PDT
COST:
Free and open to the public
LOCATION:
506 SW Mill Street (RSVP to attend) OR watch online
Join us Monday, October 24, as TREC director Jennifer Dill moderates a panel on the Future of Transportation in Downtown Portland. Register to attend in person (space is limited), or join online via Zoom.
Moderator: Jennifer Dill, Professor, Toulan School of Urban Studies & Planning and Director of PSU's Transportation Research and Education Center (TREC)
Panelists:
Gabriel Graff, Central City Capital Program Manager, Portland Bureau of Transportation
Cathy Tuttle, Board Member, BikeLoud PDX
André Lightsey-Walker, Policy Transformation Manager, The Street Trust
​​Mark Raggett, Associate Principal, GBD Architects and Director of Planning and Design, Friends of Green Loop
The year 2022 marked the 50th anniversary of the City of Portland's 1972 Downtown Plan, one of the most consequential plans in the city's history. It put in place a vision for a public, pedestrian-scaled, multipurpose, and vital downtown. Through the requirements adopted in the Downtown Plan and subsequent public and private investments stemming from it, Portland's core area became an international icon for central city recovery. That plan also formally identified Portland State University as the city's "urban university."
In February of this year, PhD candidate, Kimberly Nightingale, and Professor Emeritus, Ethan Seltzer, wrote a paper entitled Portland, Portland State, and the Urban University Idea that examines the history of the urban university idea in the U.S. and presents a working definition of what an urban university is today. It then examines the way that being an urban university has been baked into Portland State's identity from its very beginning, and concludes with some thoughts about where we might go from here.
Picking up where the paper leaves off, PSU's College of Urban and Public Affairs is hosting a series of panel discussions on PSU's role as an urban university. See the other panel discussions happening in October and November 2022.
This event series is offered by the PSU College of Urban and Public Affairs (CUPA). The October 24 transportation panel is co-sponsored by Portland State University's Transportation Research and Education Center (TREC). TREC is home to the U.S. DOT funded National Institute for Transportation and Communities (NITC), the Initiative for Bicycle and Pedestrian Innovation (IBPI), PORTAL, BikePed Portal and other transportation grants and programs. We produce impactful research and tools for transportation decision makers, expand the diversity and capacity of the workforce, and engage students and professionals through education and participation in research.