DATE:
Sunday, June 21, 2020, 8:00am PDT

to

Friday, June 26, 2020, 5:00pm PDT
LOCATION:
Portland State University
COST:
FREE! (Capacity is limited, application required)
As the event is still months away, we are proceeding with the Summer Transportation Camp as planned on June 21-26. TREC is actively monitoring the situation regarding COVID-19 and will provide an update if anything changes.
This one-week residence camp offers any student entering the 9–12 grade who identifies as female an immersive introduction to the workings of the Portland transportation system.
Half of each day is spent in the classroom hearing from PSU faculty and guest lecturers from ODOT, the FHWA, the Portland Bureau of Transportation, TriMet, the Port of Portland, and various other public and private transportation agencies that operate in the Portland metro area.
The other half is spent outside, in field tours of Portland's transportation infrastructure and public spaces. Planners, engineers and designers come from all over the country to see Portland's unique transportation system in action, and researchers use it as a testing ground for the most innovative solutions in safety, sustainability and livable efficiency. 
Students will work in groups to solve a real-world transportation problem and use the skills they have gained to present a solution at the end of the camp.
Timeline
Applications are due April 10. Decisions will be made by May 1, and students must decide whether to commit to attending the camp by May 8, 2020.
WHAT YOU'LL GET OUT OF THE CAMP
Introduce you to professional women in transportation
Learn about the broad range of transportation careers and sectors
Understand the social justice and equity issues within transportation and how it relates to you, your family and your neighborhood
Introduce you to transportation systems in Portland and become familiarized with Portland State University's Campus.
Have fun! Check out photos from last year.
I loved getting to know the behind-the-scenes of how transportation works in Portland! The opportunities to meet professionals from TriMet, PBOT, the Port of Portland, and many other areas efffctively opened my eyes to careers I had never even considered before. Probably my favorite part was working with city planners to see the different kinds of roads and how they work to accommodate the specific needs of roads — from bike and pedestrian needs, to budgeting, to vehicular traffic requirements. –2018 Participant
After TREC, I realized how much time, effort, and planning is required in city planning, and I notice different aspects of transportation in Portland more than I used to. I am definitely more interested in having a career in transportation. I also learned about the difference between equality and equity, which I was able to apply in school. –2018 Participant
This camp helped me recognize various planning issues in my own town. I found the information in regards to equity in transportation very eye opening. Although I don't intend to enter a career in transportation, I had a really great experience at OSTI. It taught me what I want to look for in a university, what I like and don't like. –2019 Participant
WHO IS ELIGIBLE
Oregon resident, rising 9th - 12th grade (2019-2020), 2.0 GPA, female and female-identified students. We're also offering an all genders camp (July 19 - 24).
BE A RESIDENTIAL COUNSELOR
Residential Counselors provide supervision for campers and ensure their safety and well-being. This is a paid postition. Interested? Email us at treceducation@pdx.edu.
CAMP HOSTS
Theresa Somrak, Portland State University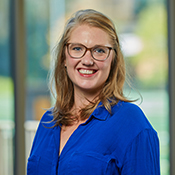 Theresa is the Office and Events Coordinator for TREC. She supports the day-to-day operations of the office, purchasing and finance tasks, hosting visiting scholars, and event planning for TREC events such as the Friday Transportation Seminars. Though Theresa comes to TREC from PSU's Electrical and Computer Engineering department, she has also worked as a beer and Portland history tour guide, the Operations Director at the Democratic Party of Oregon, and an AmeriCorps volunteer at a social service nonprofit. Theresa has a bachelors in Cultural Anthropology and is currently taking graduate classes in Rehabilitation Counseling at PSU. Outside of work and school, she enjoys playing fetch with her cat, volunteering and handbuilding ceramics at a community studio, cooking, and bicycling.
Nora Stoelting, Portland State University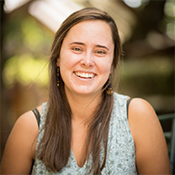 Nora is pursuing a dual master's in Leadership for Sustainability Education and Urban and Regional Planning. She is excited about the ways these two programs intersect in building a more dynamic, connected, and sustainable world. Though she loves exploring outdoor recreation in the great state of Oregon, she is originally from the concrete jungle of Brooklyn, NY. Nora's background is in garden education and environmental advocacy, and most recently worked in waste minimization with airport businesses at PDX. Nora is thrilled to join TREC to work on education programming through integrating tactical urbanism projects into PSU classes and designing TREC's free summer camp for high school students. She feels strongly in the power of collaborative, holistic, experiential teaching and learning to transform ourselves and the world. Outside of school and work, Nora likes to search for new trail races to run, plan outdoor adventures, answer people's questions about recycling, and go for long walks while listening to podcasts.
FREQUENTLY ASKED QUESTIONS
You offer an "all genders camp" and a "girls only camp", but do you offer a "boys only camp"?
No, we do not offer a boys only camp. Women comprise 50% of the workforce, but are only represented in 15% of the transportation industry. We seek to increase the number of women and students of color in transportation-focused degree programs, and expand the diversity and capacity of the workforce.
Are accommodations provided for the students?
Yes, this is a residential camp. Once the girls arrive at Portland State University (PSU) they will be assigned a dorm room on campus that they will share with one other student from the transportation camp. Each room has two single beds and one shower that you will share with your roommate.
If you need reasonable accommodations for a disability or other special needs, let us know in the appropriate section when filling out your application.
How many students will be attending this camp?
Approximately 20 - 24 high school girls will be attending.
What supervision will there be?
There will be four counselors that stay in the dorms with you through the duration of the camp. In addition to the instructors throughout the day, camp hosts Therersa Somrak and Nora Stoelting of TREC will be with the students every day from 9 AM - 5 PM.
What food will be provided for the students?
All meals (breakfast, lunch, and dinner) will be provided free of cost.
When do the days start and end?
Breakfast is provided in the dorms prior to the day starting. We start the day at 9 AM and end between 4-5 PM. In the evenings we have some recreational activities planned (rec center, movie nights, etc.).
For the field tours, will transportation be provided?
All transportation is provided, and we will mainly be taking public transit and walking as a group.
Will we be biking at any point?
We will take the students on one bike ride along the Willamette Waterfront and all bike rentals will be provided free of cost.
Can you provide a certificate of completion for this camp?
Yes! We're happy to provide a certificate.
This camp is hosted by the Transportation Research and Education Center (TREC) at Portland State University. TREC is home to the National Institute for Transportation and Communities (NITC), the Initiative for Bicycle and Pedestrian Innovation (IBPI), and other transportation programs. TREC produces research and tools for transportation decision makers, develops K-12 curriculum to expand the diversity and capacity of the workforce, and engages students and professionals through education.