Anonymous donor replaces wildlife cameras stolen from OTREC project
Posted on September 28, 2010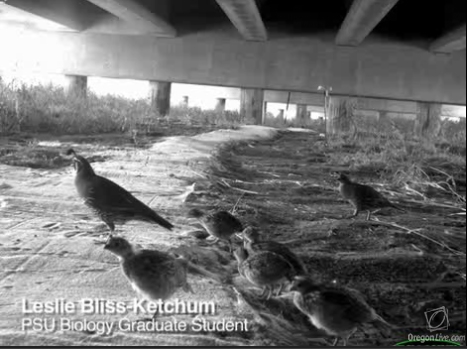 When nine wildlife cameras for an OTREC project in Wilsonville were stolen, a Portland State University graduate student worried that three years of her life had disappeared with them. Leslie Bliss-Ketchum had been researching the effectiveness of wildlife passage tunnels on Boeckman Road in Wilsonville, part of this project, using cameras to monitor the movement of vertebrates including deer, beavers and frogs.
The cameras were stolen over the summer. Because Bliss-Ketchum couldn't afford the insurance deductible for the cameras, which are essential to her master's thesis research, her degree was in doubt. Now, an anonymous donor has agreed to pay the deductible to replace the cameras.
The donation is "really awesome and totally touching," Bliss-Ketchum told KGW.
An Oregonian story and video detail the project, led by researcher Catherine de Rivera, an assistant professor at Portland State. The KGW story on the cameras' theft is here.
Share this: