Big Achievements in Moscow, Idaho
Posted on March 15, 2017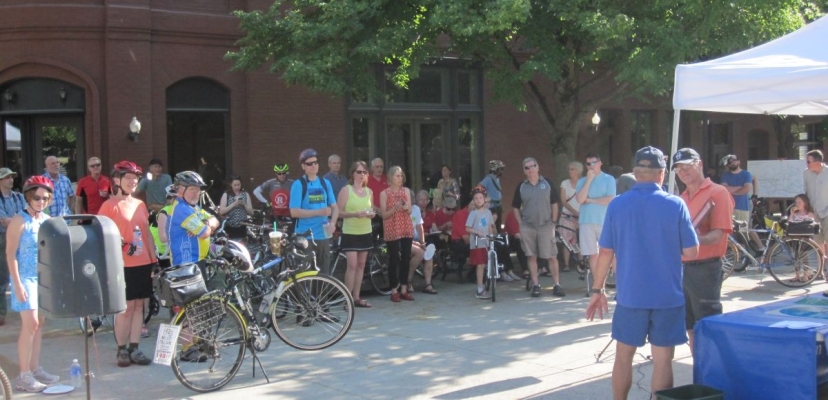 At the Transportation Research and Education Center (TREC), we are happy to spread knowledge of how to design bicycle-friendly cities. It's why we offer two professional workshops every summer for engineers, planners and advocates through our Initiative for Bicycle and Pedestrian Innovation (IBPI) program.
It's always exciting to see our workshop participants go back home newly empowered to bring vitality to their community's bicycle networks. But the city of Moscow, Idaho has exceeded our wildest expectations.
Four of Moscow's city employees have taken our course-- the mayor, the director of public works and two deputy directors -- and in a very short time they have managed to put Moscow on the map as a bicycle-friendly city: last spring they were awarded bronze status by the League of American Bicyclists.
Les MacDonald, P.E., is the director of public works for the city of Moscow.
He took the first course, Comprehensive Bikeway Design 1.0, in 2015 after hearing about it from a city engineer and an operations supervisor who had attended four years ago. He talked mayor Bill Lambert into coming with him that first year.
"That was a bit of a strategic move on my part. I wanted to make sure we had support from the elected officials, people that would participate in the decision making process," MacDonald said.
The strategy worked. Lambert, who had not been an avid cyclist, was converted.
"He came back from Portland, bought himself a nice bike, and has been riding ever since," MacDonald said.
The mayor joined the 6 percent of Moscow's population who commute by bike – a very high mode share for the United States.
"We have a lot of people wanting to ride their bikes pretty much year round; people even ride in the snow. The demand was there. I wanted to get a better handle on what the network could look like and how we could put it together," MacDonald said.
He returned to Portland last summer to attend the second workshop, Comprehensive Bikeway Design 2.0, and the work continued to gain momentum. 
In less than two years they seem to have accomplished wonders.
They created Moscow's first greenway loop and connected it to a 25-mile trail network that passes through town. (See the ribbon cutting ceremony).
They've adopted a new bike routes and facilities plan with more connections to strengthen the on-street bike network, added a number of new marked bike lanes and shared routes, and even installed comfortable, separated bike lanes in key places. 
After repaving the state highway this coming summer and restriping to narrow the lanes, they're going to install a separated bike lane where the highway runs through town-- a project MacDonald originally wasn't sure would have enough buy-in to get off the ground.
Though this is indeed rapid progress, it wasn't accomplished overnight. MacDonald and his team believe in starting small, taking the path of least resistance and accumulating support.
"The goal, reinforced through the class, is to identify what can we do easily? Knowing over time we may want to make it more robust, what can we do for now to get the system operational?" MacDonald said.
Using their allocation from the city budget and also some grant money from the state, his team implemented some cheap but effective solutions including on-street markings and wayfinding signage. They are also building a covered bike parking facility next to the city hall to encourage commuters who work in the area. It's a striking success story about the impacts of IBPI's workshops and the growing reach and number of our participants. 
Share this: