TREC info session brings together multidisciplinary faculty and staff
Posted on March 20, 2017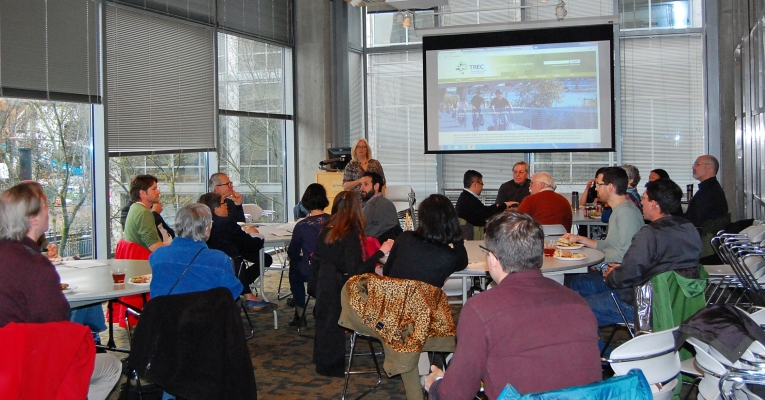 TREC, the Transportation Research and Education Center at Portland State University, hosted a lunch and information session Friday for Portland State staff and faculty members.
The luncheon brought together individuals from a broad range of disciplines. In addition to people from typically transportation-aware fields like civil and environmental engineering, metropolitan studies, urban and regional planning, public administration and the institute for sustainable solutions, representatives of other disciplines also attended, whose fields have the potential to intersect with transportation.
The span of fields included engineering and technology management; public health; education; mathematics and statistics; electrical and computer engineering; psychology; geography; computer science; women, gender and sexuality studies; economics and applied linguistics.
The gathering served as a way to bring together a diverse group of people from various disciplines who could benefit from connecting with the transportation center's ongoing programs and research.
Portland has established itself nationally and globally as a leader in sustainable transportation, thanks in part to Portland State research and education programs. Portland state's renown in transportation lifts the entire university's national reputation, and faculty members whose studies are not directly related to transportation can still benefit from this effect.
Connecting with TREC connects researchers not only to a university priority but also with a prestigious center that can fund and promote research and match faculty with new funding partners and opportunities.
Through TREC, research can reach more people: TREC's communications program finds new audiences for research through webinars, conferences, public relation, social media and other channels.
TREC also administers the National Institute for Transportation and Communities, or NITC, a national university transportation center designated by the U.S. Department of Transportation.
Attendees were informed about the opportunity to apply for NITC funding as well. The latest request for proposals from the NITC program makes $500,000 available for research projects on the theme of improving mobility of people and goods to build strong communities.
Share this: