Bridges to Baccalaureate student works on Green Lane Project
Posted on October 11, 2013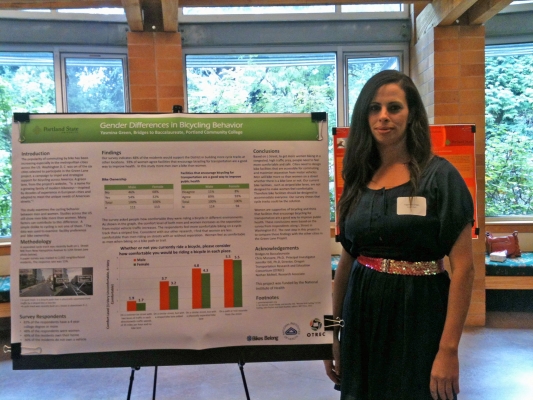 A student participating in the Portland Bridges to Baccalaureate program completed a summer internship doing research for OTREC this year.
Yasmina Green, a 34 year old non-traditional student attending Portland Community College, was intrigued when she heard about the Bridges program. Green, who eventually hopes to get a master's in public health at PSU, took advantage of the opportunity to secure a summer internship working in a public health-related field.
"I was a bit confused as to where I was going to go," Green said. "Public health is so broad. The Green Lane project was something that kind of piqued my interest. I was a bike commuter."
The Green Lane Project, a project of People For Bikes, has selected six cities to serve as pilot sites for new designs and approaches to creating comfortable, separated bike routes. OTREC researchers are involved in assessing the safety, operations, economic effects, user experience and perceptions of the new protected bikeways.
Green assisted researchers Jennifer Dill, Chris Monsere, and Nathan McNeil with a study on public perceptions of bicycle commuting. At first, she was primarily entering data from surveys they had taken, but as the summer progressed she began to formulate ideas for her own research, which would be due in the form of a project at the end of the summer.
"I did gender differences in bicycling behavior," Green said. "With the Green Lane project they're going to look at every aspect, so I was thinking of how I could narrow it down to something that would benefit where I was heading, to tie it into my own interests."
She presented her research with the other Bridges interns on September 12th. Her survey results analysis concluded that, to get more women biking in congested, high traffic areas, cities need to design bike facilities that are more comfortable and accessible for commuting and maximize separation from motor vehicles. To view Green's research poster, click here.
Bridges to Baccalaureate is a program federally funded by the US National Institutes of Health. Its mission is to increase the diversity of highly trained, biomedical research personnel dedicated to investigating and alleviating health disparities. Any student who is a member of a minority, underrepresented group or health disparity population is eligible to apply for the program.
For Green, the internship was a challenging and eye-opening experience. It gave her a taste of what it would feel like to be doing research in the field, backed by the support of Ph.D. mentors in the program. "They are very very organized, they did a fantastic job of keeping us in the loop," Green said. In her estimation, the Bridges program generates positive results both for the students involved and for the research being done. "A lot of [scientific research] is done by a certain group of people," Green said. "The idea is to broaden that, get more of the minority groups into the research field; their views are going to be just as valuable."
Share this: