California students flock to Oregon for student-run transportation conference
Posted on November 30, 2012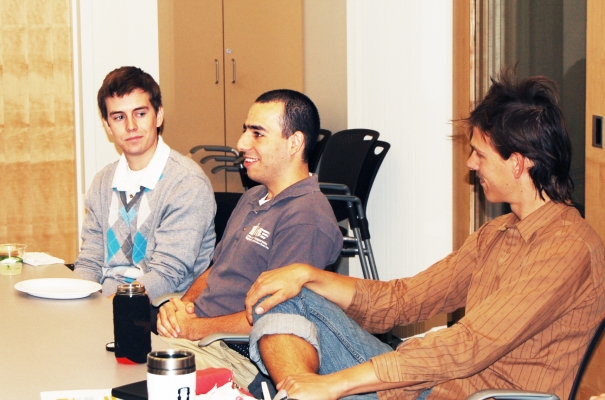 While the annual Region X Student Transportation Conference in November always attracts students from across the northwest, this year's conference pulled some from much farther south: Pomona, Calif.
The conference is a showcase for student transportation research in the Pacific Northwest (Federal Region X), which includes Washington, Oregon, Idaho, and Alaska. Region X serves as a microcosm of transportation for the entire country, making it a prime testing ground for studies in transportation operations and planning.
The conference was sponsored by OTREC and hosted this year by Students in Transportation Engineering and Planning (STEP), the Portland State University Student Chapter of ITE.
When professor Xudong Jia of Cal Poly Pomona learned about the conference, he was determined that his students would find a way to attend. With the support of OTREC, Cal Poly Pomona sent five students to the conference, a mix of undergraduate and graduate students in civil and transportation engineering.  The students were interested in both the research and tours, as well as gleaning tips for how to organize a student-led conference: something the Cal Poly students will be doing when they host the TransModal Connection Conference in February in San Louis Obispo.
In addition to visiting the Western Federal Lands Materials lab in Vancouver, Wash., the team competed in the Oregon Section ITE William C. Kloos Traffic Bowl. Though a transportation mishap left them stranded at the lab for a few additional hours, the students still left Portland with a positive impression of the City and its transportation system.
Student Ruben Hovanesian said, "Portland was great…we loved the ease and simplicity of using public transit to get around." The team thoroughly enjoyed the conference as well, noting that, "The project tours during the conference were really good... and the panelists were put together, presenting a diverse background of experiences and perspectives."
-- Kate Drennan
Share this: